Environmental Stewardship
In March of 2015, Pope Francis released his encyclical entitled, Laudato Si: On Care for Our Common Home.  The document is meant for all peoples and is an urgent call to address our behaviors and the consequences those behaviors have on the health of our earth.  Pope Francis especially highlights the plight of the poor who often bear the burdens of climate change in a disproportionate manner.
Pope Francis states, "It is my hope that this Encyclical Letter, which is now added to the body of the Church's social teaching can help us to acknowledge the appeal, immensity and urgency of the challenge we face" (Laudato Si, 15).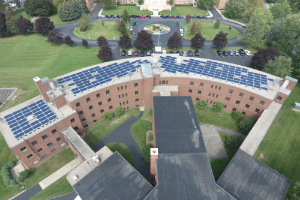 Photo provided by Solar by CIR
As a Franciscan community, we are dedicated to being responsible stewards of the environment. In addition to advocating for responsible public policy, we have implemented several "green" initiatives at our convents and ministries, including:
Daily practices, such as recycling, composting, rainwater preservation, maintenance of green spaces, and organic gardening
The installation of solar panels to provide water heating in convents in Pennsylvania, Illinois, and New Mexico
The construction of a LEED-certified convent and high school in Coraopolis, Pennsylvania
The use of geo-thermal heating in Buffalo, New York
In 2017, we completed the final phase of our nationwide solar panel project which involved the installation of solar panels at six Felician properties across the United States. Combined, they are expected to avoid 110 million pounds of CO2 emissions over their 35-year operating life.
Click here to watch a short video on the Ten Top Takeaways from Laudato Si by Fr. James Martin, SJ.