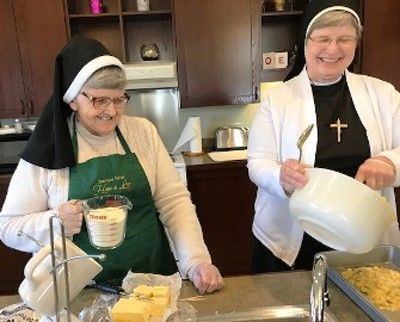 The Felician Sisters at Our Lady of the Sacred Heart Convent in Coraopolis, Pennsylvania, put their culinary skills to work to make a special treat for the Valley Ambulance Service, who have served them for many years, especially when the convent was a care center.
Sr. Mary Justice Przybocki and Sr. Melanie Marie Bajorek baked four dozen cake cookies, and all the Sisters contributed from their stash of Easter goodies to fill a basket with candy, chocolate eggs and marshmallow peeps. The message on the cookie container read: "A box of cookies, a basket of candy, because when we need you, you're always handy!"
Denise, one of the responders, came personally to pick up the goodies, and executive director, J.R. Henry sent the Sisters a note of thanks:
"Thank you so much for your offer and for thinking about us – and thanks again to all of the Felician Sisters for their prayers, support, kindness and generosity!"
Sr. Mary Cabrini Procopio said, "We continue to pray for all medical personnel and first responders as well as those affected by the virus. Please God, keep them safe and healthy! In you we trust and beg for your mercy."