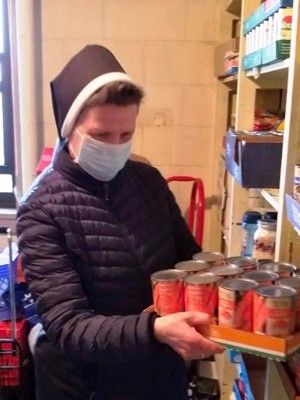 With the shelter-in-place orders from the Governor of Illinois and the increased number of individuals now unemployed, calls requesting assistance from the St. Turibius Food Pantry in Chicago have escalated. In response, the Sisters and lay members of the St. Turibius St. Vincent DePaul Society are working to ensure that the needs of the people in crisis are being met.
According to Felician Sister Mary Beth Bromer, the annual Easter Food Distribution on Monday, April 6, was conducted in the parish parking lot. Individuals and families received food, grocery store gift cards, personal hygiene items and cleaning supplies. Families with children also received a special Easter candy treat.
A donation of gloves and masks, provided by an area funeral home, ensured that all volunteers had protective gear for the distribution. They also practiced social distancing.
During the first ten minutes of the Easter Distribution, 33 families arrived for their Easter supplies. By evening, a total of more than 200 families had been served.
The Felician Sister Vincentians – Sr. Mary Beth Bromer, Sr. Mary Francine Lagocki, Sr. Mary Eunice Olbrantz, Sr. Mary Barbara Ann Bosch and Sr. Mary Eliana Remiszewska – continue to be overwhelmed by the generosity of the parishioners who frequently ring the doorbell of the convent to leave donations for the St. Turibius Food Pantry.
Sister Mary Beth said, "The goodness of others in this unprecedented time of crisis is proof that even though the church buildings are closed, the Church is not!"