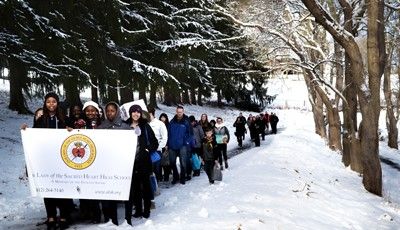 Each year, on the Sunday before Valentine's Day, Our Lady of the Sacred Heart (OLSH) High School and Convent in Coraopolis, Pennsylvania, honor the legacy of Felician Sr. Louise Marie Olsofka by hosting the Love Walk for the Poor. This year, 80 members of the OLSH community joined the Felician Sisters in their efforts to bring attention and empathy to the poor and homeless.
Thirty years ago, Sr. Louise Marie, who was known for her true passion for serving others, started the Love Walk for the Poor. Each February, on the Sunday before Valentine's Day, she and the other participants would walk a mile, carrying donations of food, clothing and other items, in solidarity with the homeless who have to carry all of their possessions and face the Pittsburgh winter weather every day.
Now held on the OLSH campus, the Love Walk for the Poor begins with Mass in the chapel and continues with a walk to the Sisters' cemetery. Participants stop at Sr. Louise Marie's grave to pray for her and for the other Sisters who dedicated their lives to serving others. Through it all, participants carry donations of food for Our Lady's Pantry and baby items for the Choices Pregnancy Center in Coraopolis.
Although aspects of the walk have changed over time and the number of marchers has varied, OLSH is determined to see that event continues. Jessica Cerchiaro, director of marketing and communications for the high school, said, "Sr. Louise Marie may no longer be with us here on earth; however, those who journeyed on this year's Walk in her memory sensed that she was there in spirit. The OLSH community is committed to celebrating and honoring her legacy and tradition throughout the school's history."