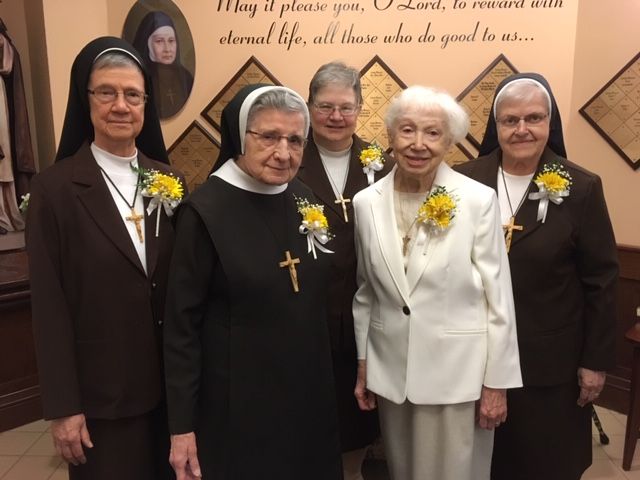 On Sunday, May 26, the feast of Our Lady of the Sacred Heart, the Felician Sisters in Western Pennsylvania celebrated five jubilarians. The Mass was held at Our Lady of the Sacred Heart Convent Chapel in Coraopolis, PA.
Convent Chaplain Father Sam Esposito celebrated the Mass and shared an Easter message of peace in his homily, saying that it is a "a gift for all who willingly let go of self to enter the mystery of trusting a God who doesn't show us the ending or even the bumps along the way…Just look at these sisters who have done that again and again, and continue to be sources of inspiration to all of us."
The jubilarians proudly renewed their vows as they stood in the center aisle facing their beloved Spouse. After Father's blessing, they turned to face the congregation as their Sisters extended their hands in blessing.
At the reception following Mass, Local Minister Sister Mary Sharon Iacobucci thanked the jubilarians "for who they are…our sisters, our friends, our teachers, at times our cheerleaders who help us keep things in perspective, our nurturers, our health advisors, our listeners, our wisdom figures who encourage us and who give us reason to celebrate their lives lived well in fidelity to God over these many years."
Congratulations to our jubilarians!
70 Years:  Sister Mary Alexander Klawinski, Sister Mary Angela Maciag
60 Years: Sister Virginia Marie Klonowski, Sister Mary Cabrini Procopio
50 Years: Sister Noel Marie Gabriel