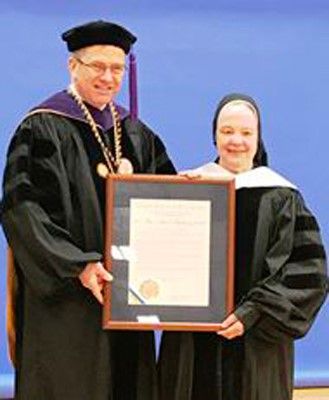 Felician Sister Johnice Rzadkiewicz was honored at the commencement ceremony of Canisius College as she was presented with the degree of Doctor of Humane Letters, honoris causa.
Sister Johnice's life was changed forever by a chance meeting with Mother Teresa (now Saint Teresa) in 1985. Sister Johnice asked Mother Teresa if she could come to Calcutta to work with the sisters there and learn by her side. Mother Teresa smiled and told Sister Johnice to go back to her East Side community and find her own Calcutta.  "People will come to you," she encouraged. "Look in the eyes of every person you meet and find Jesus. Those," she said, "are the poor who will come your way."
Sister Johnice returned to Buffalo, New York, and founded the Response to Love Center, where she now serves as the executive director. Located in the former St. Adalbert parish school, the Center offers outreach services to those who live on the margins of poverty. Their mission is the holistic treatment of poverty: loving care of the economically deprived, the spiritually poor, the emotionally battered, the isolated, the wounded and the broken. 
To see a video of the presentation, click here.