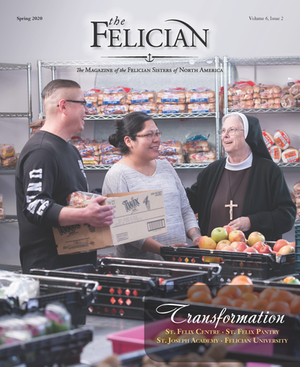 The Spring 2020 issue of The Felician hit mailboxes in April. 
What's inside?
Relationships Help St. Joseph Academy to Grow
St. Felix Pantry: Serving the Poor with Food and Education in the Southwest
St. Felix Centre: Serving Purely Out of Love
Felician University: Holding to the Mission and Moving Forward
Leo Meyer Manor: A Ministry of Presence in McKees Rocks, Pennsylvania
Celebrating Felician Mission: Haiti in Livonia and Lodi
Click here to read the magazine online or send us an email at felicianmagazine@feliciansisters.org to request a copy.
Make sure you don't miss the next issue. Click here to join our mailing list.
Click here to read back issues of The Felician online.