Our Lady of Hope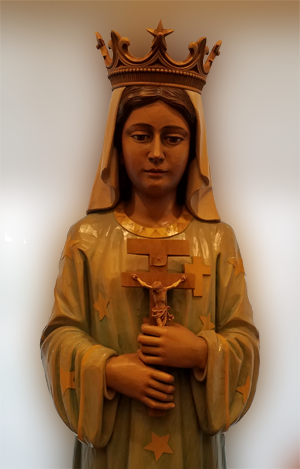 On January 17, 1871, the Virgin Mary appeared to two young boys in the small town of Pontmain, France. Eugene and Joseph Barbedette, ages 12 and 10, had been praying the Rosary, asking for the safe return of their brother, Auguste, from the Franco-Prussian War. One winter night, as they stepped out of their family's barn, they looked up and saw a vision of the Blessed Mother in the night sky. She appeared as a beautiful woman wearing a crown and clothed in a blue cloak covered with stars.
Unable to see what their sons described, their parents called for the local school teacher, Sister Vitaline. She too was unable to see the vision. Believing that perhaps the apparition could be seen only by children, they called for two girls, Francoise Richer and Jeanne-Marie Lebosse, ages 9 and 11, who looked up and described the vision just as the boys had.
A crowd soon gathered at the sight. As they prayed the Magnificat, the children saw Our Lady read the words on a banner that unfurled at her feet: "But pray, my children, God will hear you in a little while." She came to be known as Our Lady of Hope.
Eleven days later, the Franco-Prussian War ended and Auguste Barbedette and the other young men from Pontmain returned home safely. One year later, a shrine was erected on the spot where Our Lady of Hope appeared to the children and the Barbadette's barn was converted into a chapel, which would later become the sight of Our Lady of Hope Basilica.