Saint Felix of Cantalice
Our Foundress, Blessed Mary Angela Truszkowska, looked to Saint Felix of Cantalice as the patron saint and namesake of our congregation. Saint Felix of Cantalice led a life of devout prayer coupled with service to God's people — inspiring the contemplative-active model of religious life that Blessed Mary Angela would help to pioneer with our congregation's founding.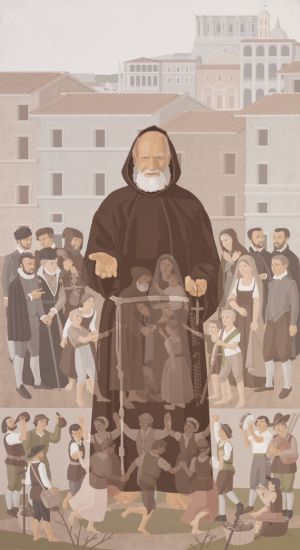 The son of peasants in Cantalice, Italy, Felix spent his early years as a shepherd and farm hand. He later became a Capuchin friar, and soon became known for his pious yet joyful presence on the streets of Rome, seeking donations for the friars' ministries to the poor and sick. Walking barefoot through the streets with a sack slung over his shoulders, Brother Felix blessed all those he met with a humble "Deo Gratias!" (thanks be to God!), causing many to refer to him as "Brother Deo Gratias."
Felix could also be found ministering to children on the city's streets, instructing them through canticles he had composed about the goodness of life. They would come to greet him with smiles and requests for more songs and stories.
Saint Felix was canonized by Pope Clement XI in 1712, becoming the first Capuchin to be named a saint.