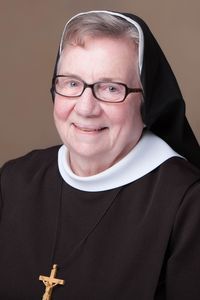 Sister Mary Madeleine Dolan
60th Anniversary
Sister Mary Madeleine (Frances) Dolan of Mt. Morris, Michigan, was 82 years old and 59 years in religious life when the Lord called her home on May 10, 2020, in St. Mary Mercy Hospital, Livonia, Michigan.
Frances was the first of four children of Francis and Marian (Purcell) Dolan. Born Feb. 12, 1938, and baptized and confirmed at St. Mary Church in Mt. Morris, Michigan, she attended both the parish grade school and high school, graduating in 1956.  
With an outgoing Irish personality, Frances was a vivacious person with a beautiful voice who had a passion for music and could play most any song on the piano by ear. Frances was organist at St. Mary Church in Mt. Morris and St. Francis Church in Flint.
While taking classes at a local community college in Flint, Michigan, she began student teaching third grade at St. Francis of Assisi School located north of Flint, which was staffed by the Felician Sisters. It was there that she received the calling to become a Felician Sister.
Four years later, in 1960, Frances was accepted into the Felician community as a postulant and in 1961, during the Investiture ceremony, received name of Sister Mary Madeleine. Final vows were in 1968.
Preparing for her apostolic ministry, Sister Madeleine earned a Bachelor of Arts degree from Madonna (College) University, and a Master of Arts degree in Special Education from Eastern Michigan University.  Sister Madeleine's calling to this field of education perhaps evolved from her family situation, in which two siblings were mentally challenged.  
During her 33 years of ministry in education, Sister Madeleine's apostolic journey took many paths that included teaching elementary school at St. Valentine, Detroit; St. Francis, Flint; Presentation, Detroit; and Our Lady of Refuge, Orchard Lake. Sister also served as elementary school principal for a total of 16 years at St. Jude, Grand Rapids; St. Valentine, Detroit; St. Damian, Westland; and St. Florian, Hamtramck. Another assignment included administrator and director of St. Joseph Day Care Center in Jackson, where Sister conducted special education classes for some students while others attended Jackson public schools.  
In 1996, while still attending as many community functions and meetings as possible, Sister Madeleine went to her family home to care for her mother and sister, Lori, who was mentally challenged. During this time, Sister also served on the Board of Trustees at Madonna (College) University.
When Lori was placed in McGuire Memorial in Pennsylvania, Sister Madeleine was assigned to Presentation of the Blessed Virgin Mary Convent, St. Joseph Hall, in Livonia. In 2017, Sister became a member of the leadership team for the convent.
Sister Mary Madeleine peacefully left this earth on May 10, 2020, to return to the God whom she so faithfully and joyously served on this earth. Interment was in Holy Sepulchre Cemetery, Southfield, Michigan, on Friday, May 15, 2020.