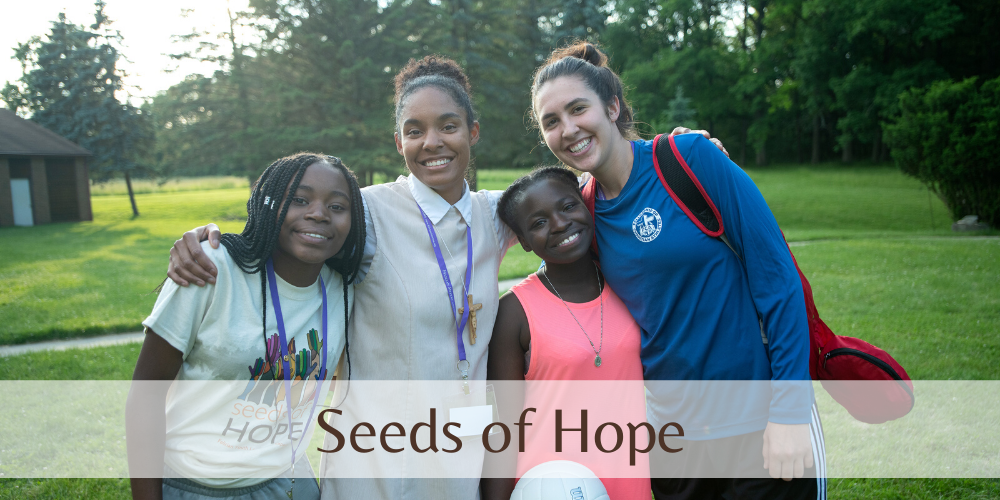 The 2020 Seeds of Hope Felician Youth Leadership Conference scheduled to take place from June 13-19, 2020, in Holly, Michigan, has been cancelled due to the COVID-19 pandemic. Though we are disappointed to cancel, the safety and well-being of the participants, mentors, Sisters and other volunteers are our top priority.
All applicants who were accepted to the 2020 program will be automatically accepted into the 2021 program. Dates and information for the 2021 Seeds of Hope will be forthcoming.
(posted 4/9/20)
Teens are more connected and have more information about the needs of the world than any other generation before them. That is why the Felician Sisters created Seeds of Hope, to empower young women by providing them with the tools, resources, confidence and support they need to make a difference in the world TODAY.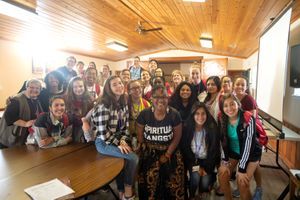 Seeds of Hope is UNIQUE because it:
Brings together peers from across the U.S., Canada and Mexico to share ideas and explore issues about which they are passionate
Empowers young women to be servant leaders by providing guidance and mentorship as they develop and implement service projects in their own communities
Focuses on the Felician Core Values: Compassion, Justice and Peace, Solidarity with the Poor, Respect for Human Dignity and Transformation
Explores the connection between humanity and creation and the importance of creating right relationships with both
WHEN is Seeds of Hope?
June 13-19, 2020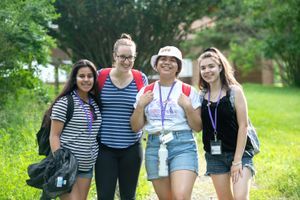 WHAT will I do at Seeds of Hope?
At Seeds of Hope, you will:
Build leadership skills through interactive, engaging workshops led by successful professional women and peer mentors
Establish relationships with successful professional women who will mentor you beyond the week-long conference
Explore your spirituality through the celebration of daily Mass, adoration of the Blessed Sacrament and Reconciliation
Serve those in need during the week and develop a service project to implement in your community
Share fun recreational activities with peers, including boating, hiking, swimming, a challenge course and more
Experience self-reflection in the form of prayer, meditation, journaling and peer-guided discussion
WHO is invited to participate in Seeds of Hope?
Young women entering their sophomore or junior years of high school who want to:
Develop their leadership potential
Collaborate with peers from across the U.S., Canada and Mexico
Take action to address the issues about which they are passionate
Explore their faith as a source of strength and clarity
HOW do I apply to participate in Seeds of Hope?
Click here to view a checklist of all items needed to apply to be a participant in Seeds of Hope and links to all forms. Applications must be received by March 15, 2020.
WHAT is the cost to participate in Seeds of Hope?
Participants pay a fee of $100, which includes all meals, programming and lodging.
It is the desire of the Felician Sisters that finances not hinder any young woman from participating in Seeds of Hope. Scholarships to cover the cost of travel and payment plans are available upon request.
WHERE is Seeds of Hope held?
The Felician Sisters host Seeds of Hope at the Maryville Retreat Center in Holly, Michigan (about an hour outside of Detroit). The Center sits on 240 acres along Lake Elliott and features a chapel, comfortable rooms with private showers, a dining hall, outdoor challenge course, and hiking trails.

All participants are responsible for arranging their own transportation to Seeds of Hope. Transportation scholarships are available. For more information, please contact Caroline Stanfill at cstanfill@feliciansisters.org or 724-650-7936.