What We Do
We serve in more than 42 ministries across the continent, including: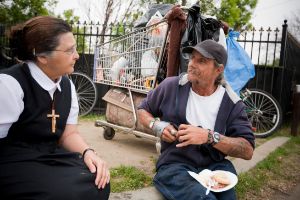 Click here for a list of sponsored, cosponsored and Felician supported ministries.
We currently sponsor ministries in California, Canada, Connecticut, Haiti, Illinois, Michigan, New Jersey, New Mexico, New York, Pennsylvania, South Carolina, and Wisconsin. In addition, we serve in parishes, food pantries, schools, social services, and other ministries that are not specifically Felician-sponsored across the continent.
Our ministries are asked to uphold the five core values that are hallmarks of our Franciscan culture and identity:
Respect for Human Dignity - exhibited by a reverence for and commitment to promoting and protecting the dignity of all persons;
Compassion - characterized by an empathetic consciousness toward others expressed in caring service;
Transformation - characterized by an open heart and mind, leading to continuous improvement of all involved in our ministry;
Solidarity with the Poor - ensuring that the needs of the poor and vulnerable are met through advocacy and action;
Justice and Peace - forging right relationships, recreating a sustainable environment, promoting the common good—all in the pursuit of peace.