Saint Francis of Assisi
Francis was born into a wealthy merchant-class family in Assisi, Italy, in 1181/82 (exact date unknown). He had a privileged childhood and was known for his reckless behavior and extravagant lifestyle as a young man.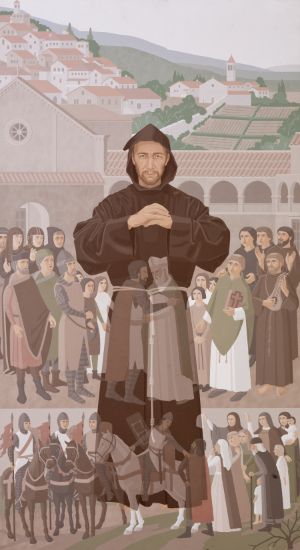 After being captured and held as a prisoner of war in a battle between Assisi and Perugia, Francis experienced a spiritual conversion. When he finally returned home, as he prayed before the crucifix in Assisi's San Damiano Church, Francis heard the voice of God call out to him: "Repair my house."
Taking this message quite literally, Francis began working to repair the San Damiano Church, which had fallen into disrepair. In time, however, he came to understand that God's calling for him encompassed much more than the care of a structure. He was being called to revitalize the spirituality of God's people.
Francis renounced his life of privilege and embraced a life of poverty, contemplation, and service to the poor. He preached the Gospel message and served the poor and the lepers in the valley. He went where no one else would go, bringing the healing message of God's love to all.
Francis treated the impoverished and the marginalized with compassion and dignity, seeing the face of God in all he met. Likewise, he treated all of God's creation with reverence and care, seeing in all things the reflection of God's divine love.
Shortly before his death, Francis received the stigmata, wounds corresponding to those of Jesus at the crucifixion. He died in 1226 and was named to sainthood by Pope Gregory IX two years later.
Francis underwent a spiritual conversion that ultimately never ended. This notion of ongoing conversion is at the core of Franciscan spirituality. As Felician Sisters, we celebrate and embrace our Franciscan heritage and the humble spirituality of Saint Francis of Assisi.