Saint Clare
It was the words of Saint Francis, as he preached a Lenten sermon in Assisi, that would prompt young Clare to leave behind a life of privilege and follow him on a journey in faith.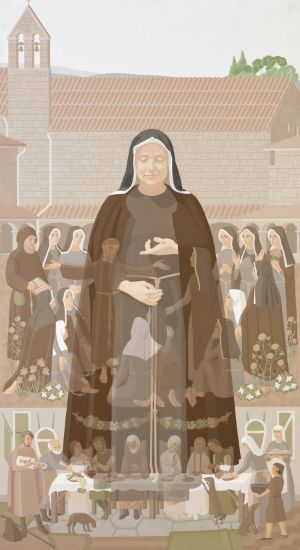 Clare, the eldest daughter of wealthy nobility in Assisi, Italy, was regarded from her earliest years as prayerful, devout, generous to the poor and increasingly desirous of a deeper relationship with Christ. She was 18 years old when she happened upon Francis, preaching in the Church of San Giorgio in Assisi. His words resonated with her, inspiring her to live a life true to the Gospel, in poverty, simplicity, penance and prayer. Knowing that her decision would not be well-received by her family, she left home to pursue a new life in Christ.
On that night, before Francis and his followers, Clare consecrated herself to God, committed herself to a life of prayer, penance and poverty, and became the first Franciscan woman.
Other women soon joined Clare on her journey, including her mother, sisters and cousin. With the help of Francis, Clare and her followers took up residence in the monastery of San Damiano, where Francis first heard the voice of God calling him "to repair my house." 
Clare lived a contemplative life of prayer and poverty in seclusion at San Damiano for the rest of her life, remaining a faithful follower of Francis. She continued to encourage, aid and care for him in illness until his death.
She was canonized Saint Clare of Assisi by Pope Alexander IV in 1255, two years after her death.