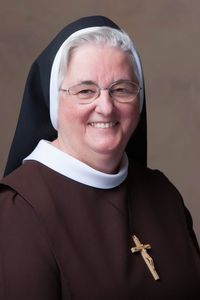 Sister Joan Marie Swierzb
60th Anniversary
Sister Joan Marie Swierzb entered the Felician Sisters as a postulant on Aug. 15, 1960, at Our Lady of the Angels Convent in Enfield, Connecticut.
Current Assignment
Manager of St. Francis Residence
Coordinator of Felician Associates
Place of Birth
Providence, Rhode Island
Home Parish
St. Adalbert Parish
Providence, Rhode Island
Education
Bachelor of Arts in Elementary Education
Assumption College
Worcester, Massachusetts
Master of Arts in Education Administration
Rivier College
Nashua, New Hampshire
Major Areas of Ministry
Teacher, Principal, Convent Administration, Manager of St. Francis Residence
What do you wish everyone knew about your vocation?
I always wanted to be a Felician Sister and I love being a Felician Sister. Each ministry as a Felician Sister has brought me joy and peace.
What has brought you the most joy and why?
Religious life lived to the fullest has brought me the most joy. Prayer, community, various ministries, recreation are all part of the hundred-fold and being able to serve in Holy Obedience all have given me a sense of peace and fulfillment.
What advice would you offer someone discerning a vocation to consecrated life?
Follow your heart and desire! Petition to God for guidance and answer God's call. I have been a Felician Sister for 60 years and if I had to live my life over again, I would again become a Felician Sister.  
| Assignments | | | |
| --- | --- | --- | --- |
| Teacher (Grade 2) | Sacred Heart School | Easthampton, MA | |
| Teacher (Grade 4) | St. Joseph School | Webster, MA | |
| Teacher (Grade 2) | St. Mary School | So. Boston, MA | |
| Teacher (Grade 4) | St. Joseph School | Webster, MA | |
| Teacher (Grade 2) | St. Mary School | Middletown, CT | |
| Teacher (Grades 3 & 4) | St. Adalbert School | Providence, RI | |
| Teacher | St. Joseph School | Florida, NY | |
| Principal | St. Stanislaus School | Lowell, MA | |
| Principal | St. Joseph School | Webster, MA | |
| Provincial Minister | Our Lady of Angels Convent | Enfield, CT | |
| Local Minister | Our Lady of Angels Convent | Enfield, CT | |
| Manager | St. Francis Residence | Enfield, CT | |
| Felician Associates Coordinator | Our Lady of Angels Convent | Enfield, CT | |