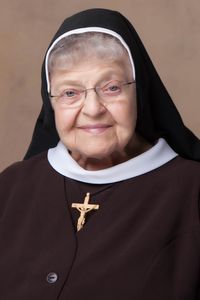 Sister Mary Danatha Suchyta
80th Anniversary
Sister Mary Danatha Suchyta, born March 14, 1922, was the eighth child of Joseph and Louise (Kwarciak): Casimir+, Theophil+, Rose+, Joseph+, Elizabeth+, Ann+, Genevieve+, Lottie (Sr. Mary Danatha) and John+.
Baptized and confirmed at St. John Cantius Church, Detroit, she attended the parish grade school. After 7th grade Lottie, because of her scholastic abilities, was accepted into the Seminary of the Felician Sisters in Detroit, graduating in 1940.  A few months later she entered the Congregation and in the novitiate year, 1941, received the name Sister Mary Danatha. Final vows were pronounced in 1948.
In 1950, Sister earned a bachelor's degree from Presentation Junior College, later named Madonna (College) University, and two years later pursued a  Master of Science degree in biology from Fordham University in the Bronx, New York, graduating in 1952. Sister continued her education and embarked on a doctorate from Walden University in Boca Raton, Florida, graduating in 1980.
In 1955 Sister initiated a ministry at Madonna University that totaled 54 years. Assigned first as a biology professor, then department head and later as president from 1965-1976, Sister returned to Madonna from 1977-1991 as director of several departments including director of Co-op Education and director of Computer Information Services.
During this time, Sister Danatha was elected to the Provincial Council (1988-1994) as vicar in charge of Formation and Spiritual Life, then returned to Madonna in 1994 as director of Advancement Research and later as director of Planned Giving. 
Sr. Danatha entered eternal rest on June 27, 2020.