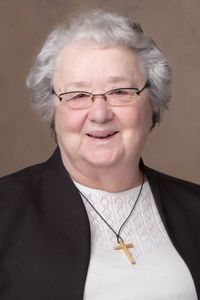 Sister Marie Ann Stamm
70th Anniversary
Hillman Village, Michigan, farm country of mid-Michigan, was the birthplace of Teresa Rose Stamm, 10th child of Louis and Margaret (Streasick) and siblings Marie, John, Martin, Mabel (former SM Bertha), Margaret, Marcella, Muriel, Daniel - died in infancy, Thomas, Teresa (Sister Marie Ann) and Michael, who also died in infancy. As a farmer's daughter, she learned to be a survivor and to enjoy dirt and to grow plants.
Baptized at St. Augustine Church, Hillman, Michigan, Sister Marie Ann attended Hillman Rural Agricultural School and Felician Academy, Detroit, graduating in 1950. Shortly after, influenced by her sister, Sister Mary Bertha, a Felician Sister, she was accepted into the Felician Congregation and received the name Sister Mary Martin Ann, later changed to Sister Marie Ann. 
Sister Marie Ann earned a baccalaureate degree with majors in history and biology from Madonna (College) University (1960). Master's degrees in American history and theology were earned at the University of Detroit (1960, 1970), and a doctorate in ministry from the Graduate Theological Foundation, Notre Dame, Indiana (1988). An honorary doctor of divinity degree was bestowed on Sister Marie Ann in 2004 from the Graduate Theological Foundation. Sister also studied at Bradley University, Peoria, Illinois; Michigan State; Villanova University, Pennsylvania; Western Michigan; and Cloverdale Study in Limerick, Ireland.
Sister Marie Ann's teaching experience included every grade from kindergarten through the university level. For the first 23 years, Sister was a teacher in the Archdiocese of Detroit at St. Ignatius, Patronage of St. Joseph, and Holy Ghost, St. Valentine and St. Andrew – all in Detroit;  St. Michael, Livonia;  Our Lady of Mt. Carmel, Wyandotte; Our Lady of Refuge, Orchard Lake; and St. Hilary, Redford. Other places in Michigan included St. Mary, Bronson; and St. Hyacinth and St. Stanislaus, Bay City.
Assigned to Madonna University in 1976, over the next 37 years Sister was professor, then chairperson of the Religious Studies/Philosophy Department (1990-2013), oversaw Cultural Affairs and Campus Ministry and was instrumental in developing the pastoral ministry program.
Another path opened for Sister Marie Ann when she taught several police officers in her class and was asked to be a chaplain. Sister graduated from the Detroit Police Chaplains' Academy in 1990 and was part of the Wayne County Sheriff's Department Chaplain Corps, an emergency response team organized after 1987's Northwest Flight 255 disaster.
She served at airplane crashes NW 255 and Comair 3272 where she collected body parts, notified next of kin and counseled grieving survivors. For more than twenty-five years, first with the Wayne County Sheriff Department and Desert Storm, and later with the Livonia Police and Fire Departments, she helped more than 3,000 abused children, hundreds of domestic violence victims and other wounded persons. 
Among her talents Sister Marie Ann wrote a book from her research entitled: Spirituality of Grief: Exploring Faith/Grief Dynamics, and compiled a collection of 200+ poems – A Single Rose I Offer. Sister also put together the Livonia Blue Book: Beyond the Badge for the Livonia Police Department and composed a hymn for police funerals: Come Home.      
Travel was an important segment of her education and included visits to 44 countries. She visited most European and Mideast countries, taught in Taiwan, and visited Japan and Korea.  She was awarded a full summer in Germany for an essay entitled, The Influence of Germans on the Writing of the United States Constitution, directed poetry workshops in Ireland, visited Nigeria and worked two summers in Mexico. She remarked that the experiences expanded her respect for what "catholic" really means.
Sister also presented workshops and lectured to adult groups and hospital programs and published articles.
Assigned as a permanent resident of Presentation of the Blessed Virgin Mary Convent, St. Joseph Hall, since 2013, Sister continued in spiritual direction and is now engaged in the ministry of prayer.