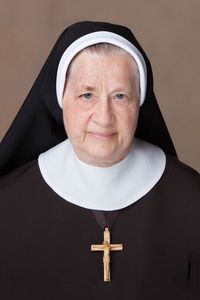 Sister Maria Sonnenfeld
60th Anniversary
Born on the 4th of July, 1936, in Detroit, Michigan, Sister Maria (Rosella) Sonnenfeld was the second of eight children of Joseph and Stella (Stanislawa Budynek) Sonnenfeld: Teresa+ (Sister Mary Therese, CSSF, former Sister Mary Rosalma), Maria, Caroline, Walter+, Elizabeth+, John and Rosemary.
Baptized at Immaculate Conception Catholic Church, Detroit, Maria grew up in Yale, Michigan, and then in Marine City, Michigan, where she attended both Catholic and public grade schools and graduated from Holy Cross High School in Marine City.
Prior to entering the Felician Congregation, Maria worked a few years at St. Clair Community Hospital in various areas. She entered the Felician Congregation in December 1960, and the following year received the name Sister Mary Rosella, later changed to Maria, and pronounced final vows in 1968.
Sister Maria first embarked on a ministry of education, and for the first six years taught at St. Louis the King in Detroit and St. Damian, Westland, and was then assigned to child care at St. Joseph, Jackson.
A new ministry opened in 1969 with a transfer to St. Mary Hospital, Livonia. Completing all requirements and the board exam, Sister became a registered X-ray technologist in 1971 and worked for 13 years, which included one and a half years at St. Mary Hospital in Centralia, Illinois.
Circumstances changed and while Sister Maria worked as a radiology tech, she pursued a certificate in pastoral care-hospital ministry. It was at this time that Sister completed course work and graduated with a Bachelor's degree from Madonna University in 1981.
For the next 21 years Sister Maria was assigned to the spiritual care department. Within this timeframe Sister was a student at Mercy Catholic Medical Center in Darby, Pennsylvania, and received a certificate in clinical pastoral education.
In 2003 Sister Maria was assigned to Marywood Nursing Care Center and Marybrook Manor and for the next 12 years ministered as a resident visitor and assisted in pastoral care.
In 2015 Sister received a final assignment to Presentation of the Blessed Virgin Mary Convent, St. Joseph Hall, where she assists the sisters in pastoral care to this day.
Sister Maria's empathy, gentleness, compassion and genuine concern have affected all the individuals with whom she ministered. She gives special attention, time and care to dying patients and family members. The Lord has worked through Sister Maria to help restore inner peace enabling many to live a more abundant, Christian life.