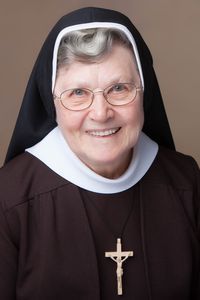 Sister Mary Thomasine Satkowiak
75th Anniversary
Born in the little town of Kawkawlin, Michigan, on July 3, 1927, Sister Mary Thomasine (Wanda Satkowiak), was the sixth child of Joseph and Pauline (Wazbinski) Satkowiak: Mathew, Albina, Frank, Leo, Raymond, Wanda (SM Thomasine), Pauline, Louis, Helen and Robert. Baptized and confirmed at St. Stanislaus Church, Bay City, she completed early education at Kawkawlin #3 School, then high school at St. Stanislaus and St. James, both in Bay City. 
Sister Thomasine first encountered the Felician Sisters at St. Stanislaus High School and felt the beginnings of God's call to religious life.  She entered the Felician Congregation in 1945 and final vows were taken in 1953.  She earned a bachelor's degree from Madonna (College) University and embarked on a ministry of teaching primary and middle grades for 54 years. 
St. Florian, Hamtramck, and Resurrection and St. Andrew, Detroit were her first teaching assignments.  For the next 41 years, Sister traversed northern and middle Michigan at St. Joseph, Manistee; St. Theresa, Wayland; St. John Vianney, Grand Rapids; St. Mary, Parisville; St. Cecilia, Clare; East Catholic, Saginaw; St. Hyacinth and St. Stanislaus, Bay City, and St. Valentine, Kawkawlin.
Her ministry in education extended overseas when Sister was missioned to Carlsburg, Germany, from 1963-1968 teaching religious education at six different American Army and Air Force Bases and spreading the Gospel among soldiers as well. 
She returned to the Archdiocese of Detroit, where assignments as a teacher took her to St. Florian, Hamtramck; Resurrection, St. Andrew, St. Stephen, and Mary, Mother of God – all in Detroit; St. Thecla, Clinton Township; St. Michael, Livonia; and Our Lady of Refuge, Orchard Lake. Sister was also the principal at St. Christine, Detroit, and St. Hilary, Redford, for a total of 10 years.
Assigned to Presentation of the Blessed Virgin Mary Convent, Livonia, Sister Mary Thomasine served as administrator of the Senior Clergy Village on the Felician grounds from 2007-2011.  She remained at Presentation Convent in active ministry as seamstress, driver and other house duties until 2017, when Sister took up the ministry of prayer as a permanent member of St. Joseph Hall.