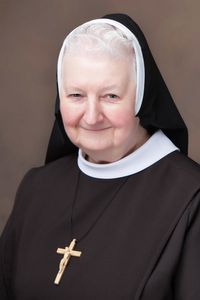 Sister Mary Renetta Rumpz
60th Anniversary
True to the family tradition with a name that starts with the letter "R," Sister Mary Renetta, born Sept. 27, 1941, in Detroit, Michigan, was the third of eight siblings of Sylvester and Leocadia (Prusak) Rumpz: Raphael, Richard, Rita (SM Renetta), Roberta, Reginald, Roderick, Randy and Renee.
Sister Renetta was baptized and confirmed at St. Francis Church, Detroit, and attended the parish grade school. Completing high school at St. Andrew, also in Detroit, Sister joined the Felician Sisters in 1960. Final vows were professed in 1968.
Beginning in the ministry of education, Sister taught for five years at St. Valentine and St. Casimir in Detroit, and at Our Lady of Refuge in Orchard Lake. For the next 32 years Sister was involved in the ministry of health care in different capacities at St. Mary Hospital, Livonia, and for three years as administrative assistant at St. Joseph Home, Jackson. This was interrupted by a nine-year appointment as provincial minister in the Livonia Province, and followed by a year assignment as interim treasurer at Our Lady Mediatrix of All Graces, the generalate in Rome, Italy.
Sister Renetta graduated in 1967 with a Bachelor's degree from Madonna University and with a Master's degree in hospital and health administration in 1982 from Xavier University, Ohio. In 2006 Sister received an honorary Doctor of humanities from Madonna University.
Sister Renetta was appointed to St. Mary Hospital in 1968 as business office and data processing supervisor and then as director of fiscal services from 1971 to 1980. She was involved in the introduction of the first information system at St. Mary. Over the years she would witness tremendous growth of computer technology, expansion of information systems and hospital expansions.
Admitted to Xavier University in 1980 for the Master's program in hospital and health administration, Sister was a member of the team that won first prize in a national competition of financial management and regulation conducted by the American College of Hospital Executives.
Because of her sharp intellect and vision, she was promoted to executive vice president and chief financial officer from 1982-1998. Under her expert guidance, a myriad of hospital renovations and expansion projects were completed, including the Marian Professional Building, Marywood Nursing Care Center and Marybrook Manor, and the West Addition. She was appointed president and chief executive officer of St. Mary Hospital in 1998 and earned the title of Fellow of the American College of Healthcare Executives that same year. Sister also served on the strategic team that transitioned St. Mary Hospital to Trinity Health. Sister also served as President of the Cantalice Corporation, a subsidiary of St. Mary hospital, and was active on many hospital and community boards, including the Board of Trustees of St. Mary Hospital, Marian Village Corporation, Southeast Michigan Health and Hospital Association on Catholic Health Care, Metropolitan Detroit Area Hospital Services Inc., William Beaumont Hospital, Madonna University and Livonia Chamber of Commerce. She was also a task force member of the Southeast Michigan Health and Hospital Council on Health Data and Information Management.
On Jan. 24, 2000, after many sessions the administration of St. Mary Hospital signed a letter of intent to transition to Trinity Health, the third -argest Catholic Health System in the United States. June 1, 2000, officially marked the beginning of St. Mary Mercy Hospital under the new president and CEO, David Spivey.
In November 2000, Sister was elected provincial minister of the Livonia Province and participated in many congregational activities as a member of the 125th anniversary of the Felician Sisters in America, the Provincial House Renovation Committee, The Felician Sisters Campus Complex Council, and as co-chairperson of the Apostolate Committee. As the corporate president of the Felician Sisters-sponsored institutions, Sister Renetta was an active member at St. Mary Mercy Hospital/Trinity Health, Madonna University, Marian Village Corporation and the Senior Clergy Village.
Sister Mary Renetta is a woman of care and compassion, boundless energy and determined spirit, with organizational and administrative abilities. She was also known as having a no-nonsense business approach, a keen sense of humor and someone "full of positive thoughts." Presently, Sister resides in Presentation of the Blessed Virgin Mary Convent, St. Joseph Hall, in the ministry of prayer.