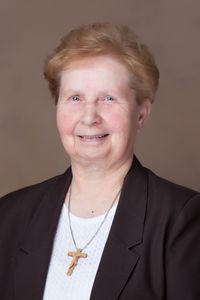 Sister Mary Alice Kwiecien
70th Anniversary
Sister Mary Alice, born Krystyna Elzbieta Kwiecien, came into the world Oct. 26, 1931, in Radom, Poland, a daughter of Joseph and Maria (Surmacz) Kwiecien, joined by siblings Marian, Ryszard, Zofia and Michalina.
Because World War II was in process during her elementary school years, much of her studies were done at home. She graduated high school in 1950 from Gimnazium Krawiecko, Bieliznarskie, Poland, and attended Teacher's College in Warsaw, receiving a teaching certificate in 1960.
She was accepted into the postulancy on Aug. 26, 1950, and received the Felician habit on Aug. 22, 1951, along with the religious name Sister Mary Alice. She professed first vows on Aug. 22, 1952, and pronounced perpetual vows on Aug. 26, 1958.
Sister Mary Alice taught in St. Stanislaus and Queen of Poland schools in Warsaw from 1953-1966. She was one of three Polish sisters who immigrated to Canada in 1966 at the request of the leadership of the Holy Name of Mary Commissariat for sisters to work among the Polonia, or Polish community, in Canada. She taught Polish and religion, served as a sacristan and visited the sick at St. Casmir Parish in Toronto from 1966-69; St. Hedwig's, Oshawa, from 1969-72; and St. Stanislaus, Hamilton, from 1972-75. Sister Mary Alice became a naturalized citizen of Canada on April 29, 1975.
From 1975-80, she served as local superior of St. Stanislaus Kostka Convent, while also serving as a Polish instructor. As Sister Mary Alice served in various parishes, she became more and more convinced of the wisdom and necessity of inviting the laity to serve in a much broader range of roles in the parish, though it was a challenge among the Polonia who were accustomed to priests and sisters providing all leadership and much of the service within the parish. She got the opportunity to put her belief into action when she applied for a position as pastoral minister of St. Maximilian Kolbe Parish in Mississauga, where she served from 1980-2007.
Sister Mary Alice worked closely with pastor Fr. Stanley Bak, who desired that "the team would serve the needs of the parish community, trying to make use of the talents and gifts that each has." With the pastor absorbed in sacramental life and the building of church facilities, she called upon the parishioners for assistance and found a generous response, building a vibrant liturgical life and strong catechetical program, along with numerous support groups.
During her first year, Fr. Bak received a phone call from an Immigration Canada employee, encouraging a visit to a newly arrived Polish family who were staying in a hotel. After being asked to look in on the family, Sister Mary Alice became co-coordinator of the group/family sponsorship program, a role she would hold from 1980-90. She reached out to parishioners who opened their hearts and homes to new arrivals from Poland, sponsoring 6,000 Polish refugee families over the next 10 years, until Poland was freed from Soviet rule.
Sister Mary Alice was the first pastoral assistant in the Polish parishes and also served as the coordinator of the caregiver group in the parish. In 2002, she was recognized as the longest-serving full-time pastoral assistant in Holy Name of Mary Province.
A member of the Third Order, Sister Mary Alice served as a member of the Justice and Peace Commission, Assumption Province of the Oblate Fathers, representing Oblates across Canada at the 1990 gathering in Vancouver, British Columbia. That same year, she served as a translator at the Biennial Assembly in Rome, Italy.
Reflecting on her years as a Felician Sister, Sister Mary Alice said, "What brings me great joy is [that] being in our community is like being in a  family – being with the sisters together  in community has brought me much joy." 
"I would suggest that for someone entering, that person must  really feel that God is calling them to religious life. They must have a deep feeling that they are entering because they want to have Jesus as a spouse. They have to have to offer their life and to choose Jesus as a spouse, not just because of ministry, etc.," she said.
She continued, "Just like in a marriage, there must be a close friendship and communication with each other. Often I have seen with couples that when there are difficulties in their marriage, it is because they have lost this friendship, this closeness. They must have this close relationship. Also, if people would really know how wonderful it is to be a sister having a good relationship with Jesus, there would be more vocations.  But so many do not have a friendship with Jesus. Jesus is guiding you, helping you, surrounded with Him, and one needs to keep in touch with him as a friend."