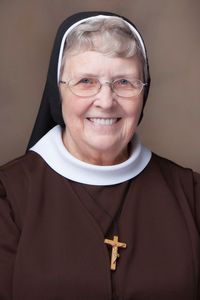 Sister Rose Marie Kujawa
60th Anniversary
Jane Kujawa was born in Detroit, the sixth of seven siblings of Francis and Anna (Rakoczy) Kujawa: Mary Lou Koziel, Helen Hampton+, Francis+, Laura Colasinski, Rosemarie+, Jane Sister Rose Marie) and John. After attending St. John Cantius Grade School and Felician Academy, she was accepted into the Felician Congregation in 1960, received the name Sister Rose Marie and pronounced final vows in 1968.
Articles, reviews research, publications and presentations over the years attest to her active life of more than 50 years in the ministry of education. Sister Rose Marie received a Baccalaureate degree from Madonna (College) University, a Master's degree and Ph.D. from Wayne State University and a Doctor of humanities degree at Madonna's 71st Commencement, May 12, 2018. Her visionary leadership, distance-learning degree programs and partnerships in Taiwan, China, Haiti and the United Arab Emirates were among the accomplishments which led to the honorary degree.
Assigned as a teacher for the first 12 years, Sister taught at St. Valentine, Bishop Borgess and Ladywood High School. In 1976, Sister was assigned to Madonna College and during her first appointment in the mathematics department, organized and taught the first computer courses. This was followed with additional responsibilities in the Planning and Development Office. As academic dean, Sister Rose Marie organized the first graduate program in 1982, a joint venture of the nursing and business departments, and was responsible for the export of Madonna's graduate program to Taiwan, a step which confirmed the University's direction in international studies.
In 1979 Sister began a 17-year service as academic dean and vice president and it was during this time that Madonna College was transitioned to Madonna University. Over the years Sister also served on several boards such as the National Association of Independent Colleges and Universities, Orchard Lake Schools, Saints Cyril and Methodius Seminary, Marywood Nursing Care Center, Angela Hospice and St. Mary Hospital. During the 1994 provincial elections, Sister Rose Marie was elected to the leadership team and assigned as the provincial secretary.
Her travels abroad have included visits to more than 30 countries around the world, the fruits of which reaped the admission of international students to Madonna University from more than 40 countries, as well as a student exchange program in Japan.
July 1, 2001, was another milestone. Sister Rose Marie was appointed sixth president of Madonna University, a position she held for 14 years. During her presidency, Madonna saw enrollment increase by 10 percent to more than 4,000 students; the launch of its first doctoral program; and more than $40 million in campus improvements, including increasing the size of the campus, building a new athletic complex and updating classrooms, laboratories and residence halls with state-of-the-art technology.  
Sister retired on June 30, 2015, after the successful completion of Madonna University's $50 million capital campaign and construction of a new science and media building, entitled the Franciscan Center.
Within three months of her service at Madonna, Sister discerned yet another call to service, this time in the Archdiocese of Detroit. Presently, Sister is in her fifth year as the Delegate for Consecrated Life for the Archdiocese of Detroit, a position she accepted in 2015.