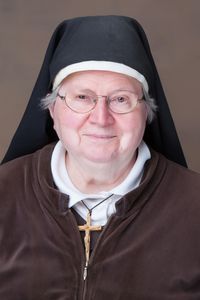 Sister Mary Joseph Kowalska
70th Anniversary

Sister Mary Joseph (Mary) Kowalska was born Sept. 6, 1928, in Grand Marais, Manitoba, the eldest child of Francis "Frank" and Frances (Sroczynska) Kowalska, followed by brothers Walter, in 1929, and Chester-Theodore, known as Teddy, in 1932.
Mary was baptized at St. Mary's Roman Catholic Church in Beausejour, Manitoba, and attended Catholic elementary schools in Montreal, where she received First Communion and Confirmation at Matki Boskiej Czestochowskiej Parish.
She graduated in 1945 from Thomas D'Arcy McGee High School, where in addition to her academics she studied violin and participated in the high school orchestra. She attended Toronto Teachers' College, earning a teacher's certificate for grades kindergarten through 10, and Canisius College in Buffalo, New York, United States. She completed a bachelor's degree from the University of Toronto in 1975.
Mary entered religious life on May 1, 1950, in Buffalo, and received the Felician habit and the name Sister Mary Joseph on Sept. 12, 1951. She professed first vows on Sept. 15, 1952, and made final vows on Aug. 14, 1958.
Sister Joseph began her Felician ministry by offering child care at St. Stanislaus Day Nursery in Toronto from 1952-53 while she was a student at Toronto Teachers' College, then taught elementary grades and later, special education, at schools including Sts. Peter and Paul, Welland; St. Augustine, Welland South; St. David's, Toronto; St. Joseph's and St. Gerard's, Streetsville; St. Hedwig, Oshawa; St. Catherine of Siena, Cooksville and St. Dominic's in Mississauga. She also taught at Holy Name of Mary High School in Mississauga for 20 years, from 1976-85. She was known as a remarkable teacher, with a special heart for students with learning disabilities.
A former student, Jilian Wong, recalled her first day of high school, when Sister Joseph spotted her lost and crying in the hallway, and comforted her and helped her find her classroom. "From that moment, my admiration grew for Sister Joseph's compassion and willingness to go above and beyond to help a student," said Jilian, who continued to visit Sister Joseph annually for more than 30 years, throughout college and two master's degrees. "Sister Joseph was authentic and unique. Yes, she had a strong voice and her laughter was loud sometimes. She may have worn her veil in an awkward way that was not in keeping with protocol … Sister Joseph's appearance, voice, personality, sense of humor and demeanor made her a unique human being that was special and different in my view."
In later years, Sister Joseph served as a Eucharistic minister at St. Patrick's Church in Hamilton, during which she ministered at the Good Shepherd Centres, and was known for her loving kindness toward the poor. She visited the sick and assisted the elderly at St. Stanislaus Convent in Toronto; and did part-time clerical work at the Canadian Catholic Biblical Association of Toronto, as well as assisting at St. Francis Table.
She authored a historical article about the Felician Congregation's involvement with the Archdiocese of Toronto for its 150th anniversary celebration on Mary 13, 1992. Sister Joseph also offered a break-out session on direct ministry to the poor titled "Hands-on Work with the Poor: Life at St. Francis Table, Toronto."
Sister Joseph had a great interest in languages and a love for people, especially minorities. She served as a Polish-English interpreter at the Biennial Assembly in Rome, Italy, and took part in the Felician Archivists and Research Historians Meeting with General Secretary Sister Mary Janice Zolkowski.
In her retirement, she tutored adults in basic English as a Second Language and ministered to needy and new Canadians; volunteered for the "Out of the Cold" program; tailored courses for priests oriented around the language of liturgy, theology and religion for English/Polish priests, and taught an elocution/diction program for English to immigrant Canadians of a multicultural, East-Indian parish.
From 2005-10, she volunteered in lunch ministry, sewing and tutoring at St. Stanislaus Convent in Toronto, and from 2010-2017, at Holy Name of Mary Convent in Mississauga, she tutored adults who needed assistance with learning English and translated the Hamilton Convent's chronicles from Polish to English. She also served as a cook and helped with preserving the bountiful apple harvest for the sisters. From 2017-2010, she engaged in the ministry of prayer.
Sister Joseph was 91 years old and a beloved member of the Felician Congregation for 69 years when she passed away April 9, 2020. She will be most remembered for her great love for the St. Felix Centre, which serves the homeless and needy of Toronto,  for the poor and for all those in need of welcome and friendship.
At her 60th jubilee, she said, "Throughout the schooling imparted to me on the elementary and high school levels, I had the good fortune to be served by sisters, brothers, priests and numerous laypeople having a religious orientation to their professional lives of service in the name of God's church. Their roots connected with quite a variety of ethnic groups speaking strange languages and associated with very different cultures; however, none compared with the down-to-earth and family-friendly sisters called Felicians. Their very presence indicated that immigrants of whatever shape or color had guardian angels at their beck and call."