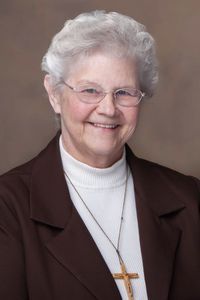 Sister Mary Andrew Budinski
60th Anniversary
Sister Mary Andrew (Sharon Paulette) Budinski, was born June 4, 1942, in Detroit, Michigan, and baptized and confirmed at the Church of St. Augustine also in Detroit. Sharon was the oldest of four children born to Paul and Florence (Greszkowiak) Budinski followed by Carolyn and the twins, Susan and Bernard. 
In 1956, inspired by two great-aunts who were Felician Sisters, Sister Andrew completed high school as an aspirant in Coraopolis, Pennsylvania, and in 1960 was admitted to the postulancy. The following year she received the habit and the name Sister Mary Andrew. Final profession of vows was in 1968.
Duquesne University in Pittsburgh was a familiar campus for Sister Mary Andrew who earned a Bachelor of Science degree in education (1967), a Master's in Education in library science (1971), and Master's in formative spirituality and ministry (1988).
In her life as a religious that spanned six decades and encompassed service in a variety of ministries across three continents, Sister Mary Andrew has sought to embrace the charism of Blessed Mary Angela – serving where she was needed.
From 1963 to 1971 Sister Mary Andrew taught elementary school in Pennsylvania at St. Joseph, Port Vue, Guardian Angels, Pittsburgh, St. Joseph, Coraopolis, and St. Louise de Marillac, Pittsburgh. At St. Margaret Mary in Moon Township, Sister was assistant coordinator of catechetics.
In 1971, Sister was assigned to Brazil and for the next nine years she ministered at two American schools in Rio de Janeiro, Sao Paulo and Niteroi as a sixth-grade teacher, librarian and director of audio-visuals. Holiday breaks were spent doing missionary work in the interior of Brazil.
In 1980 Sister was asked to serve in the generalate in Rome as chauffeur and portress. Celebrating her silver jubilee in 1985, Sister returned to the States, taught at St. Louise de Marillac Parish, Pittsburgh, and completed her Master's in formative spirituality and ministry at Duquesne University.
Sister Andrew's ministry took a new direction from 1988-1990 when she became superior, vocation director and Associate Program director at Our Lady of the Sacred Heart Provincial House in Coraopolis. Sister continued these responsibilities and became the director of the Pre-Tertian sisters until 1996.
Moving to St. Adalbert Parish in Pittsburgh in 1996, Sister was appointed as local minister and continued to direct the Associate Program while serving as vocation/postulant director. St. Louise de Marillac, Pittsburgh, was the next assignment (1998-2003) where Sister served as social services minister and pastoral associate.
Leadership positions were next in Sister Andrew's ministry. In 2003, Sister was appointed as co-minister in the Provincial House in Coraopolis, then in 2007 was elected to the Provincial Council as Secretary from 2007–09 during the time that the eight American Provinces reconfigured into Our Lady of Hope.
From 2009-2015, Sister was assigned to Beaver Falls, Pennsylvania, as local minister and mission leader in the newly-formed Our Lady of Hope Province. In a transfer to Michigan in 2015, Sister was appointed to pastoral ministry first at Marywood Care Center in Livonia, Michigan, and then to St. Therese of Lisieux Parish in 2017. In 2019, Sister was selected as local minister at Presentation of the Blessed Virgin Mary Convent, where she resides to this day.
Sister Mary Andrew is a gifted, creative individual who has engaged in various prayer and retreat ministries for the sisters as well as for laypeople. She has prepared seasonal and special prayer services, led centering prayer support groups, promoted the experience of lectio divina, created liturgical environments and established parish bereavement ministries.
Thoughts from an article from the 2006 Peacemaker Award, of which Sister Andrew was a recipient, sum up other extracurricular activities: speaker on diverse topics for sisters as well as for parishes and conductor of retreats for women, cancer survivors and AA groups of women.
Through a blend of humor, insight and spiritual gifts, Sister has touched many individuals through her ministry of prayer, service and leadership.