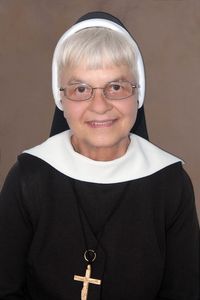 Sister Mary Anita Bienia
60th Anniversary
Home Parish
Visitation Church in Mt. Pleasant, Pennsylvania
Current Ministry
Feeding the Poor
Generalate
Rome, Italy
2012 - present
Other Assignments
(X-ray) Radiologic Technologist and Medical Library Technologist
Port Charlotte, Florida
1986-99
(X-ray) Radiologic Technologist and Medical Library Technologist
Okarche, Oklahoma
1971-86
Who/what most influenced your decision to enter religious life?
My religious upbringing and example of parents, the Felician sisters in the parochial school, my pastor and brother (seminarian).
What three words would you use to describe yourself?
Be positive attitude.
My blood type happens to be B Positive and people have told me I have a positive attitude about myself.
What are your hobbies or special interests?
I enjoy walking, reading, nature and seeing beautiful sites of Rome and other places in Italy especially the Basilicas.
What aspect of your religious life have you found most satisfying, rewarding or surprising?
Working as a Radiologic Technologist (x-ray) and Medical Laboratory Technologist has helped me to better see God in the sick and dying when I would visit patients at random in the three hospitals I worked in and when resulting test reports in the computer where I could see their diagnoses and pray for them and now continue to see God in the poor doing my Sandwich Ministry here at the Generalate in Rome, Italy.
Is there anything else you would like readers to know about you?
The one most significant memory of my life as a Felician Sister is being a pen pal to a prisoner by writing him and visiting him a few times for the past 30 yrs. and then witnessing his conversion.