Ministry to the Marginalized & Those Living in Poverty
We minister each day to individuals and families in great need. Our Sisters serve the homeless, women in transition, and others who are marginalized—people that society has seemingly forgotten—with compassion and mercy, a healing presence, spiritual sustenance, and a reminder of God's unconditional love. In addition to our Felician-sponsored ministries, our Sisters also support regional food pantries, clothing and food drives, various social services, and more.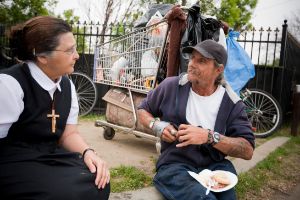 Angela Spirituality Center  – Pomona, California
In Pomona, we serve the homeless in a ministry of presence on the streets and reach out to the very poor, traveling to apartment complexes and trailer parks to minister to impoverished women, immigrant families, victims of human trafficking, and children living in transitional housing.
Deo Gratias Ministries – Detroit, Michigan
In Detroit, we attend to the physical, social and spiritual needs of our neighbors by providing a safe place in disadvantaged neighborhoods where guests can gather for refreshments, social interaction, support and help. Through a ministry of presence, we provide unconditional hospitality to those in need. Current projects include a community garden and a small café where people can go for refreshments and companionship.
Felician Center – Kingstree, South Carolina
The Felician Center serves those who are struggling to meet basic needs through our St. Felix Food Pantry, Learning Center, St. Clare Clothing Closet, Blessed Angela Meals, Eye,Dental, and Prescription Programs, and the Francis Marion University Health Care Program. 
Our Lady of Grace Village - Newark, Delaware
Built on the site of a former Felician orphanage, Our Lady of Grace Village is a 60-unit affordable housing community serving households with incomes at or below 60% of the area median income. Twelve units are handicapped accessible and six are designated for special populations, including persons with disabilities. (Applications for Our Lady of Grace Village are managed by East Coast Management. All inquiries should be directed to them. Click here to visit their website.)
Response to Love Center – Buffalo, New York
At the Response to Love Center, programs such as a soup kitchen, food pantry, infant formula program, and thrift shop help meet the most basic needs of the people they serve, while additional programs, such as healthcare education, GED programs, computer classes, and training for Veterans, help encourage self-sufficiency. 
St. Felix Centre – Toronto, Canada
St. Felix Centre in Toronto, Canada, provides compassionate service and wholistic support to individuals and families facing challenges such as homelessness, mental illness, addiction, malnutrition, and insufficient education. 
St. Felix Pantry – Rio Rancho, New Mexico
St. Felix Pantry serves as a safety net for people struggling to support their families in times of crisis. We provide food, clothing, household items, and referral services.