Ministry to Individuals with Disabilities
We believe that all persons, as children of God, are created for a sacred purpose and deserve to be treated with dignity and respect. In our ministries serving individuals with disabilities, we foster an environment that celebrates each person's individuality and encourages their unique potential.
Felician School for Exceptional Children - Lodi, New Jersey
The Felician School for Exceptional Children serves the academic and vocational needs of individuals with disabilities ages 3 to 21. We work to ensure that each individual in our care can develop the skills, attitudes, and behaviors necessary for independent living.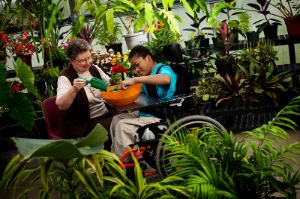 McGuire Memorial - New Brighton, Pennsylvania
McGuire Memorial is a co-sponsored ministry of the Felician Sisters and the Diocese of Pittsburgh that serves children and adults with disabilities ages 3 to 65, including individuals with profound, multiple, complex disabilities; mild to moderate physical and developmental disabilities; autism spectrum disorders; and those who are medically fragile.
Our programs include:
A residential program for children and adults with profound, complex disabilities who may be medically fragile
A day program for adults with profound, complex disabilities
An adult training facility offering vocational training, life skills, and paid employment opportunities
A respite care program for families
A community home program offering private residential living for individuals with mild to moderate disabilities
The School at McGuire Memorial, a private school serving children with disabilities ages 3-21