Senior Living & Health Care
In addition to the Felician-sponsored ministries listed below, we co-sponsor two hospitals with other religious congregations. We are also a caring and compassionate presence to our Sisters staying in Felician Care Centers and serve the spiritual needs of the elderly and infirm through pastoral visits.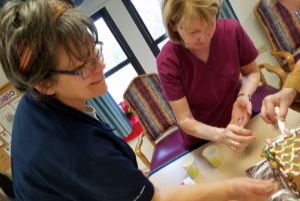 Angela Hospice – Livonia, Michigan
Angela Hospice provides specialized care for terminally ill patients as well as support for their families. We also serve pediatric patients with the "My Nest Is Best" program for seriously ill children and provide Hospice Home Care.
Felician Adult Day Center – Enfield, Connecticut
The Felician Adult Day Care offers adults with cognitive impairments safe, individualized care including nutritional guidance, assistance with activities of daily living, recreational activities, and access to medical providers.
Felician Village – Manitowoc, Wisconsin
Felician Village offers seniors a variety of options, ranging from independent and assisted living facilities to long-term care at St. Mary's Home. We also offer memory care, comprehensive inpatient and outpatient services, and 24-hour nursing care.
Good Samaritan Hospital – Mount Vernon, Illinois
SSM Health Good Samaritan Hospital is known for providing exceptional health care and consistently putting patient's needs first. The134-bed facility was recognized with a Citation of Merit Award for Outstanding Patient Care, presented by Quest by Premier Inc. 
Marywood Nursing Care Center – Livonia, Michigan
Marywood Nursing Care Center provides short- and long-term services, from skilled nursing and rehabilitation services to extended stays and hospice care.
St. Anne Home – Greensburg, Pennsylvania
St. Anne Home provides a continuum of care and supportive services, including independent living, personal care services at Villa Angela, and intermediate and skilled nursing care at the St. Anne Home Nursing Center.
St. Francis Residence – Enfield, Connecticut
St. Francis Residence offers adults 55 and over safe independent living options in rental housing. 
St. Ignatius Nursing and Rehab Center – Philadelphia, Pennsylvania
St. Ignatius Home provides long-term care to low-income elderly persons. Along with our independent living facility, we provide a range of services, including memory care, respiratory therapy, and sponsored social activities.
St. Mary's Hospital – Centralia, Illinois
Operating in partnership with the Felician Sisters, SSM Health St. Mary's Hospital has a strong history of over 100 years of community engagement. The125-bed, inpatient hospital specializes in several types of care including: behavioral health conditions, cancer, maternity, occupational medicine, weight management services, wound care and more.
Senior Clergy Village – Livonia, Michigan
Senior Clergy Village offers a variety of living options for active, independent senior clergymen.
Villa St. Francis – Milwaukee, Wisconsin
Villa St. Francis provides a caring, home-like environment for more than 100 residents, with options including independent living, assisted living, and respite care.