At-Risk Youth Programs
Felician Sisters run and/or support a variety of programs for at-risk youth who have been affected by poverty, lack of opportunity, food insecurity, violence, loss, trauma, and more.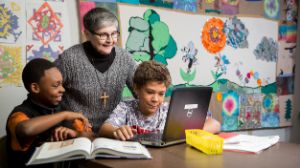 Mooncrest Neighborhood Programs – Coraopolis, Pennsylvania
Mooncrest Neighborhood Programs focus on actively revitalizing a 395-unit complex, home to nearly 700 people in Moon Township, near Pittsburgh, PA. Services offered include an after-school program, summer programs, community garden, and social and educational activities for children and adults.
United Stand Family Center – Chicago, Illinois
United Stand Family Center serves children, adolescents, and families of Chicago's inner-city communities. We help students reach their potential intellectually, socially, and emotionally; support parents and families; assist principals and school staff in identifying and assessing at-risk students; offer prevention programs that build resiliency skills; and act as advocates for children and adolescents who have been victimized by loss, trauma, and violence.
Villa Maria Youth Program – Buffalo, New York
The Villa Maria Youth Program provides after-school support to children in grades 2, 3 and 4 who are in need of academic assistance in math and reading. Students are accepted into the program through teacher recommendation with parental support. From October through May, the program assists children with the completion of homework, math review and skill building, reading and vocabulary skills, library time and computer time, along with creative puppetry, art, physical activities and a Junior Achievement program. For more information, please inquire at afterschoolh@villa.edu.