At-Risk Youth Programs
Felician Sisters run and/or support a variety of programs for at-risk youth who have been affected by poverty, lack of opportunity, food insecurity, violence, loss, trauma, and more.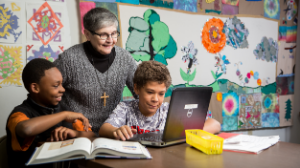 Mooncrest Neighborhood Programs – Coraopolis, Pennsylvania
Mooncrest Neighborhood Programs focus on actively revitalizing a 395-unit complex, home to nearly 700 people in Moon Township, near Pittsburgh, PA. Services offered include an after-school program, summer programs, community garden, and social and educational activities for children and adults.
United Stand Family Center – Chicago, Illinois
United Stand Family Center serves children, adolescents, and families of Chicago's inner-city communities. We help students reach their potential intellectually, socially, and emotionally; support parents and families; assist principals and school staff in identifying and assessing at-risk students; offer prevention programs that build resiliency skills; and act as advocates for children and adolescents who have been victimized by loss, trauma, and violence.