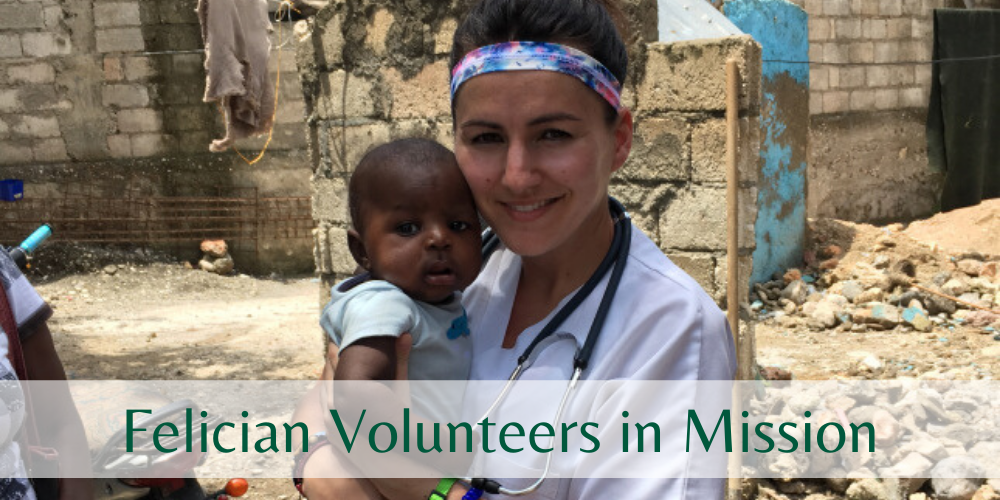 Felician Volunteers in Mission Coronavirus Update (8/25/20)
The Felician Volunteers in Mission Program is currently limited to short-term mission placements due to the coronavirus. If you are interested in participating in this type of placement, please contact program coordinator Caroline Stanfill at cstanfill@feliciansisters.org.
Your understanding is greatly appreciated during these uncertain times. Please join us in praying for all who are affected by the virus and all those who care for them, for the safety of our homes, our cities, our country and our world.
---
Felician Volunteers in Mission are committed to being a transformational presence to those in need. Volunteers pray, minister, and live simply in right relationship with one another and creation. They share their talents and resources with compassion, mercy, and joy in the spirit of Saint Francis of Assisi and Blessed Mary Angela, Foundress of the Felician Sisters.
Our Mission
Felician Volunteers in Mission is a venture of laity with Felician Sisters to cooperate with Christ in the spiritual renewal of the world. We do this in solidarity with our brothers and sisters who are poor or marginalized both in the United States and internationally. Volunteers live Gospel values in community in both long-term and short-term missions. We witness Felician spirituality as we serve others without discrimination and challenge unjust structures.
Types of Experiences
Felician Volunteers in Mission offers:
Short-term volunteer immersion experiences (7-10 days) both in the U.S. and abroad
Long-term (1+ years) volunteer experiences both in the U.S. and abroad
Eligibility
In order to be eligible to participate in the Felician Volunteers in Mission, you must:
Be an adult over 18 years old
Be adaptable to new situations
Desire to live simply
Be willing to participate meaningfully in a Catholic environment
Have good mental and physical health
Have an adventurous spirit
Desire to serve in a mission as a member of a community
Have an openness to varied forms of prayer
Complete the application, reference forms, health forms, and interview process
For more information about how you can partner with us through the Felician Volunteers in Mission program, please contact Caroline Stanfill at cstanfill@feliciansisters.org or 724-650-7936.