Vows
As Felician Sisters, we profess the vows of chastity, poverty, and obedience — a sacred commitment made publicly before God and the Church that signals a readiness to live a life of total availability in service to God and his people.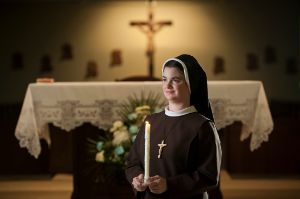 Chastity
In living the vow of chastity, we remain celibate, dedicating ourselves entirely to Jesus. The outward expression of that love for God is the joyous and generous love we give to all without exception.
Poverty
The vow of poverty is a commitment to living simply and humbly. We draw inspiration from Saint Francis of Assisi, who relinquished all riches and goods in order to more fully follow in the footsteps of Jesus. Unencumbered by worldly possessions, we can devote our lives to God and serving others.
Obedience
The vow of obedience is a commitment to listen to the will of God as it is revealed to us through our spiritual director, prayer and the counsel of our Sisters, and to humbly follow God's will. Blessed with unique gifts and talents, we remain open to how we can best serve those in need, the Church and the Felician community. This vow is also a pledge to faithfully follow the Felician Constitution, the rule of Saint Francis and Church teaching.