Sister Desiré Anne-Marie Findlay
Sister Desiré professed her perpetual vows to the Felician Sisters on Aug. 15, 2019. She currently serves as the vocation outreach minister for Our Lady of Hope Province. Below is her vocation story in her own words.  You can also follow Sr. Desiré's blog at sistalogue.blogspot.com.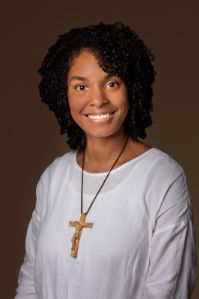 I met the Felician Sisters while I was having a good time in college and doing the usual Mass-on-Sundays-only routine. It wasn't until I made friends with my Spanish professor that I really thought about other concrete ways to live my faith, and even then it was only half-hearted. My professor told me about a pilgrimage she'd done the year before, emphasizing the cultural depth of walking through some of New Mexico's oldest towns and pueblos. Knowing I was Catholic, she had also explained that we would pray together and celebrate Mass on a daily basis, but my focus was on the fact that most of this would be in Spanish. "It sounds like fun!" I told her, and soon after that I signed up to go.
Only later did I learn that this pilgrimage would have us walking 100 miles over the course of a week, and even more surprisingly that it was specifically a pilgrimage to pray for vocations. Little did I know that God was calling me through an experience I had deemed simply fun and cultural. I ended up walking 100 miles with two Felician Sisters and at the end of the week I decided I wanted to know more. I had been very curious about religious life since I was a child, so I figured "now was the acceptable time" and I started visiting the sisters on a regular basis.
After a couple of months, the sisters discovered that I was dancing for a semi-professional basketball team and that I had previously been in ballet for several years. One day they asked me if I could do a prayerful dance for a jubilee celebration and I agreed, knowing that I could rely on my background in ballet. What I didn't know was that this dance would set the course for my future. Dance had always been a performance to me, or something to do for fun and entertainment. When I danced at the jubilee celebration, I realized for the first time that dance could be prayer. I saw very suddenly the stark contrast between how I was living my life and how I wanted to live my life, and I knew then that these sisters were the women I wanted to journey with.
I spent a couple of years in discernment and once I graduated from the University of New Mexico with my bachelor's degree in secondary education, I formally said "yes" to God and began my journey with the Felician Sisters.