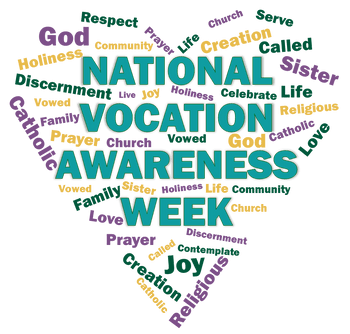 National Vocation Awareness Week
November 6 - 12, 2022
Join us for a week of events, sharing insights and information on the life of Felician Sisters.
We invite you to share our events with others who may be curious about religious life. Your support and participation helps us to deepen a culture of vocation and welcome new members to consider a vocation as a Felician Sister.
---
Virtual Examen Prayer
Sunday, November 6 | 1pm ET
Engage in a contemplative and insightful Examen Prayer for Our Earth led by Sr. Judy Blizzard, helping us be mindful of our role in caring for creation. Join us in prayer on our YouTube channel.
This video is available now. We invite you to join in collective prayer by watching it at 1pm ET on Sunday, November 6.
---
Daily Video Series: Life as a Felician Sister
November 6 - 11 | 8am ET
Have you ever been curious about what life is like as a sister? Follow our accounts on Facebook, Instagram, or Twitter, to watch our video series. Posted daily, these one-minute videos will give you a glimpse into Felician life.
Topics include:
Sun. Nov. 6 – What is community life like as a Felician Sister?
Mon. Nov. 7 – Why are Felician Sisters so joyful?
Tue. Nov. 8 – What is everyday life like for sisters?
Wed. Nov. 9 – How do sisters serve the world?
Thu. Nov. 10 – How do relationships grow in religious life?
Fri. Nov. 11 – How do I know if I should be a sister?
Felician Sisters of North America | Social Media Accounts
---
Virtual Open House Tour
Saturday, November 12 | 8am ET
Starting at the Provincial House in Pennsylvania, visit convents throughout North America in this virtual open house on our YouTube channel. You'll get a behind-the-scenes look inside the convents, along with a peek into the daily life of the sisters. 
Too excited to wait until Saturday? Click below to watch our video, What is Living in Community?
---
Since 1976, Catholics have celebrated National Vocation Awareness Week! Through prayer and education, this annual event is dedicated to promoting vocations to ordained ministry and consecrated life.
Join us from November 6 - 12, 2022, as we offer prayers and support for those who are discerning a vocation.
Is God calling you? We would ♥ to talk!
Sr. Judy Blizzard, Vocation Outreach Minister
Email: Vocation@FelicianSisters.org
Text or Call: 734-718-0632