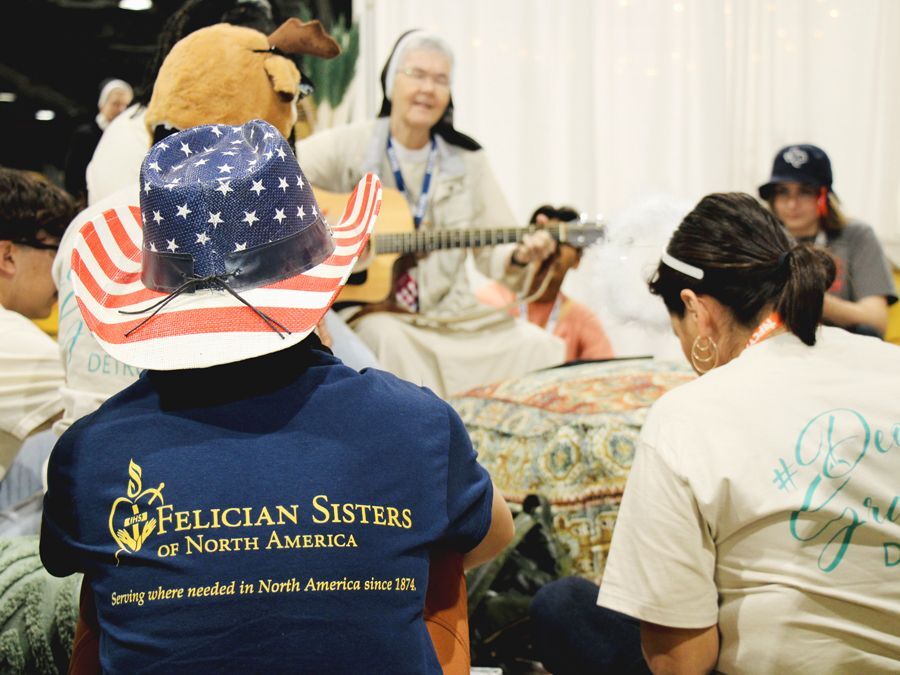 Caring for the future means investing in those who will share it, and at the National Catholic Youth Conference, Felician sisters ministered to high school students by creating an oasis of joy in a sea of concrete, with exhibit tables representing different ministries, and "rooms" for conversation, meditation, learning, service, and fun.
The National Federation for Catholic Youth Ministry (NFCYM), the organization for youth ministers at parishes around the country, who sponsors the 3-day gathering, welcomed teens and chaperones from all around the country to trust in the Lord with this year's theme: "Walk on Water." Historically, the conference has been held biennially in Indianapolis, but organizers recently decided to gather annually, alternating between Indianapolis and Long Beach, CA, in an attempt to reach more teens; 2022 marked the first NCYC West Coast event.
The floor of the Long Beach Convention Center's expo hall was covered with booths promoting various programs or items for Catholic youth, as well as inflatables, giant games, and a stage for live performances. Mass, reconciliation, and opportunities to speak with men and women religious were available daily. The Felician sisters had a significant presence, with a large corner booth that included Felician Mission: Haiti, St. Anne's Family Ministries, McGuire Memorial, Seeds of Hope, and several fun and teaching activities to engage the nearly 3,000 youth who attended.
Each activity provided a learning moment, prayer, or opportunity for service. Teens who participated in the activities received popular stickers, hats, t-shirts featuring Blessed Mary Angela quotes, and hand-made rosaries from the sisters in Chicago.
Youth were given an opportunity to carry a 5-gallon bucket of water balloons through a "Haitian Village" to learn about the scarcity and preciousness of water for Haitians. Teens could also make Haitian bracelets to swap with Haitian "Pay it Forward" students who made bracelets for the event. In addition, the conference participants created messages of Christmas cheer and positivity for clients of Felician-sponsored ministries; engaged in watercolor painting and quiet discussions with the sisters; decompressed by listening to meditation recordings created by Sister Judy Blizzard in conjunction with WQED studios; and captured memories at a photo booth where they could take selfies and tag us on social media – and then learn about Seeds of Hope. Each day of the conference, the Haitian sisters held Midday Prayer, and many teens joined their joyful songs.
The seven Felician sisters and ministry staff who attended the conference loved interacting with the young people. The sisters had many deep conversations with Catholic teens, who gravitated to their inviting space and appreciated the chance to be with the sisters.
Visit our NCYC22 photo gallery for more pictures of the conference. Learn more about NCYC coming to Indianapolis in November 2023 at https://ncyc.us.