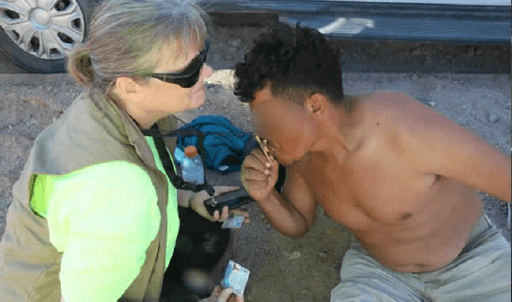 A yell rang out across the quiet of the desert. The Águilas del Desierto (Eagles of the Desert) team at base camp looked around, confused. Volunteers had been out on a search mission for less than an hour, and they wouldn't have returned so soon. The team looked around for the tell-tale neon yellow shirts worn by the searchers. As a man appeared, walking slowly towards them, they saw not a yellow shirt, but a blue one. With trepidation, they watched him approach--until they realized he was a migrant on the verge of death.
In the flatness of the desert, he had seen their van and come to them for help. The team immediately gave him water, and he fell to the ground, his bare feet covered with blisters, hyperventilating, crying, and giving thanks to God.
He was a soldier from Honduras, driven from his country by death threats from gangs. Migrants attempt to cross the desert to seek safety from death threats, extreme poverty, and corruption. According to the Missing Migrants Project, nearly 3,000 people have died or been reported missing crossing the border since 2014, including 290 from January to June of this year. Many have been fed misinformation and are unequipped for the treacherous journey.
This soldier had walked through the desert for four days with very little water, and hadn't eaten in three days. If not for Águilas del Desierto, it would not have been gangs causing his death, but the wilderness.
"He just would not have made it with the condition of his feet. He probably had another day or two of walking ahead before he would reach civilization. But he would have to have known which way to turn. On his own, not knowing where he was going, he would not have made it," said Felician Sr. Maria Louise Edwards, vice president of Águilas del Desierto.
The man knew that he couldn't keep going in his condition. He agreed to receive medical care and plead his case for asylum. His phone had died days ago, and the team helped him call his family to let them know he was safe.
As Sr. Maria Louise prayed and comforted him, he reached over and grabbed her crucifix, kissing it. Sister told him that she did not speak much Spanish, but he was not concerned about the language barrier; he just kept talking to her and glorifying God for saving him.
"I've never been there for a live rescue before, and to be honest, it was very emotional," said Sr. Maria Louise. "At first, I was just responding to his reaction and the realization that he wasn't going to die. It's hard to put into words. At the time, I wasn't thinking 'we've just saved someone's life.'"
Sr. Maria Louise spoke with anguish and anger as she described the lack of compassion for migrants she has heard and witnessed during her time with Águilas. Some have criticized this mission and blamed migrants for the "poor decisions" that led them to travel through excruciatingly dangerous conditions in the desert. For Sr. Maria Louise, a belief in the sacredness of human life extends to those traveling through perilous conditions across national borders.
Águilas del Desierto have been asked to look mostly for young people, and most of the remains they have found have belonged to people under age 25. "Our brains are not fully formed at 25," points out Sr. Maria Louise. "How can you fault someone for making an uninformed decision? One of the reasons the wall was built out that far, was to deter migrants from crossing. But it hasn't worked. The wall funnels people into the most difficult area of crossing, killing more people each year." Sr. Maria Louise understands that migrants have endured such extraordinarily difficult circumstances that that they are willing to risk their lives by crossing the desert. The Águilas del Desierto campaigns in Mexico attempt to educate people about the dangers of trying to cross, but many still come.
The opportunity to help save lives and rectify a lack of compassion for migrants has been a source of blessing to Sr. Maria Louise: "I'm just so grateful to God that he lets me be a part of this ministry and do this as part of my religious vocation. It has helped me to understand what it means to be a sister. I never understood until I encountered Águilas that sisters are like first responders in a certain sense, because we look for the suffering and that's where we go."