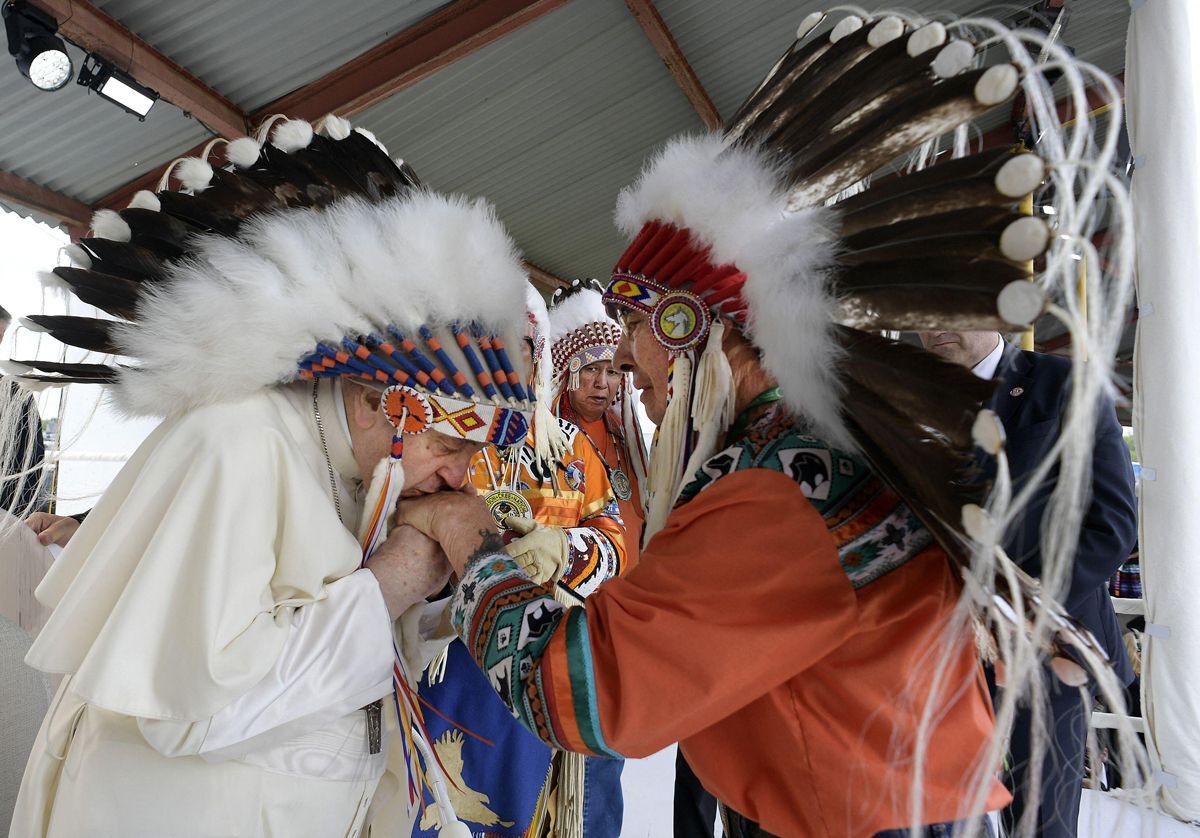 At the end of July, Pope Francis visited Canada in the first papal visit since Pope John Paul II in 2002. Pope Francis was greeted at the Edmonton International Airport by Prime Minister Justin Trudeau. This visit, however, was not merely to shake hands, but to engage in reconciliation with the Indigenous people of Canada.
In May of 2021, the bodies of 215 children, some as young as 3 years old, were found in a mass grave at a former residential school in British Columbia. Since then, more than 1,300 unmarked graves have been found. The horrifying discovery reminded Canadians of a dark history that many try to forget. The last school wasn't closed until 1997. The schools operated for more than 150 years, creating trauma for generations.
Funded by the Canadian government, residential schools were run by (primarily Roman Catholic and Anglican) Churches. The goal was assimilation and the result was cultural genocide. "Kill the Indian in the child" was the motto, similar to that of American residential schools: "Kill the Indian, save the man". Funding per student was half that of American residential schools, and less than a third of the funding for non-Indigenous boarding schools. Children were stolen from their families and forced into schools far from their homes; thousands of parents never saw their children again. Speaking in their languages was forbidden, names were changed sometimes to just a number, and psychological, physical, and sexual abuse was rampant. Education was geared towards menial jobs, with students receiving only a 5th grade level education by graduation at 18. In 1907, Indian Affairs chief medical officer Peter Bryce reported that 25% of children who attended these schools died; at one school, the number was 69%. Former students recall digging graves for their classmates, and going to bed having only eaten maggoty food.
It is in that wake that Pope Francis visited. He listened deeply and with great compassion to stories of those who were in the schools. Pope Francis offered an apology on behalf of the church. Though it is not a solution to the intergenerational trauma inflicted, it is a step towards goodwill, community, and reconciliation.
Sr. Judy Blizzard, Vocation Outreach Minister, shared her thoughts as a woman of Cherokee descent:
"I was happy to see Pope Francis apologizing for the behaviors of past Catholics which took away lives, broke up families, and took away the dignity of people. The loss of language evolves into a loss of culture, and loss of identity. Part of me wants to believe the perpetrators were coming from a stance of good, but their treatment of the children tells me that it came from a stance of hatred and anger.  I'm sure not all the people of that time felt and acted like that.  However, when we become aware of these behaviors by people of our own faith, we have to challenge the behavior, the mindset.

"Pope Francis has a love for people—especially those living on the margins and being treated unjustly—and challenges every time he speaks, to love and reach out to those on the margins. Yet today we still have people who treat others with that same anger and hatred and exclusivity. In his letter to the Philippians, St. Paul wrote: 

"Therefore if you have any encouragement from being united with Christ, if any comfort from his love, if any common sharing in the Spirit, if any tenderness and compassion, 2 then make my joy complete by being like-minded, having the same love, being one in spirit and of one mind. 3 Do nothing out of selfish ambition or vain conceit. Rather, in humility value others above yourselves, 4 not looking to your own interests but each of you to the interests of the others. Phil 2:1-4."