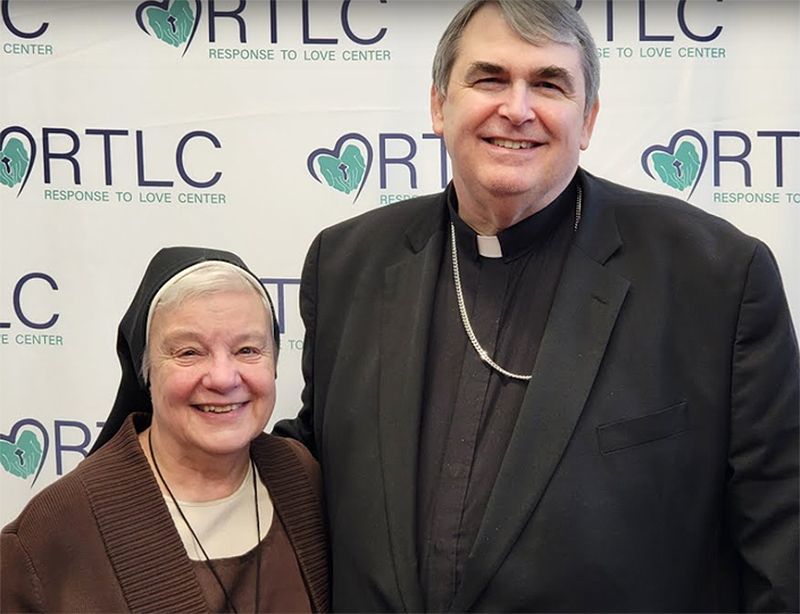 Response to Love Center (RTLC) in Buffalo, NY, welcomed Bishop Michael Fischer for a visit on October 20. Bishop Fischer spent two hours with Sr. Johnice Rzadkiewicz, founder of RTLC, her staff and the executive board, exploring the many programs offered by the organization, including ESL and citizenship classes; a food pantry, hot meal program and cooking classes; spiritual support; and social services referrals.
RTLC is housed in the former St. Adalbert School on the east side of Buffalo, which the Felician Sisters operated until its closing in 1985. Within 24 hours of the school's closing, the sisters had repurposed the building with the launch of the Response to Love Center, a community outreach program designed to meet the physical, spiritual and emotional needs of their neighbors.
The Bishop's visit concluded with a blessing of the newly remodeled building: "Lord God, You came to give honor to the least, those forgotten, overlooked and misjudged. You came to give first place to the last, those left behind, misunderstood and undervalued. You came to give a warm welcome to the lost, to those who are orphaned, abandoned and destitute. Help us to be their ears to listen to their cries. Help us to be their voice speaking out love and acceptance. Help us to be Your feet walking beside those in need. Help us to be Your hands to clothe, feed and shelter them. You came for the least, the lost and the last of this world."

Click here to watch a video of the Bishop's visit.