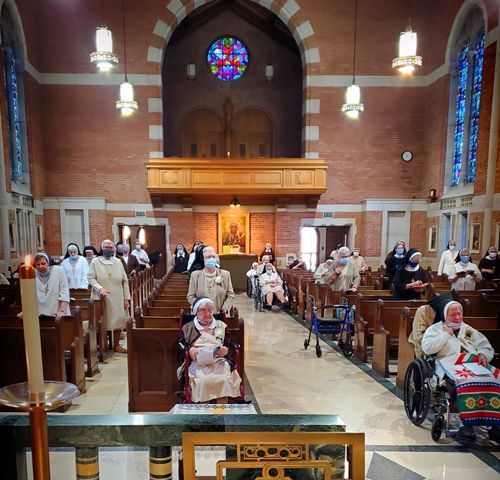 On June 6, the Feast of Corpus Christi, the Felician Sisters of the Presentation of the Blessed Virgin Mary Convent in Livonia, Michigan, honored their 2021 jubilarians. After COVID-19 robbed the sisters of their community celebrations in 2020, there was great joy in this gathering.
Once again in the presence of their Felician family, the sisters enjoyed a breakfast and morning prayers together, something they had been deprived of for more than a year.
At 1 p.m., Fr. Donald Archambault celebrated liturgy in honor of the sister jubilarians. The chapel resounded with joyous voices, accompanied by the passionate playing of organist Sr. Mary Ann Smith. Gratitude filled the hearts of not only the jubilarians, but all who were present, as they joined in singing Magnificat for the many blessings of the day and the jubilarians' commitment to religious life.
Deo Gratias, to our 2021 jubilarians:
Sr. Mary Presentine Ugorowski
80 Years
Sr. Mary Annelle Krych
80 Years
Sr. Mary Ruth Koralewski
75 Years
Sr. Helen Marie Strawa
70 Years
Sr. Mary Alfonsa Overberghe
70 Years
Sr. Mary Margaret Kijek
65 Years and

Sr. Mary Barbara Burzynski
65 Years
Sr. Rosemarie Kujawa
60 Years (in 2020)
Click here to view a full list of the 2021 Felician Sister jubilarians.