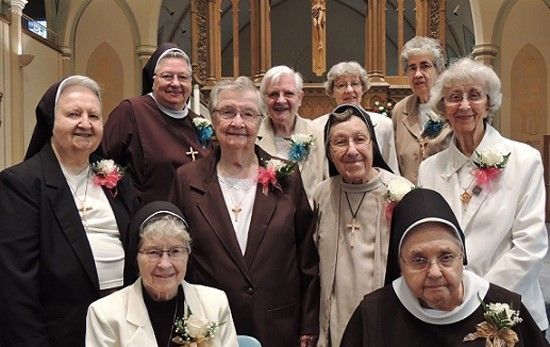 The sisters of Mother of Good Counsel and Our Lady of the Angels Convents in Chicago, IL, celebrated the Jubilarians of 2021 on Saturday, May 22.
Sr. Mary Alodia Stozek was remembered on her 80th Jubilee. Sisters celebrating their 75th Jubilee were Sr. Mary Carolita Turzinski and Sr. Mary Lucia Skalka. The 70th Jubilee group included Sr. Mary Lucy Korzekwa, Sr. Mary Theophilia Tworzydlo, Sr. Mary Francis Hopcus, and Sr. Paracleta Amrich, SSCM. Sisters celebrating 60 years were Sr. Mary Lea Malak, Sr. Mary Jeanine Heath, Sr. Mary Inez Moch, and Sr. Mary Jeanette Skornia.
In his homily, Celebrant Father Bernard Kennedy, OFM, characterized the year each group of Sisters entered the Felician Community as the war years, the baby boom years, and the dawn of the nun in the modern world years. He reminded the Sisters that, as John 15:16 records, our vocation is God's initiative, and that God chose us for joy and for generativity that lasts from generation unto generation.