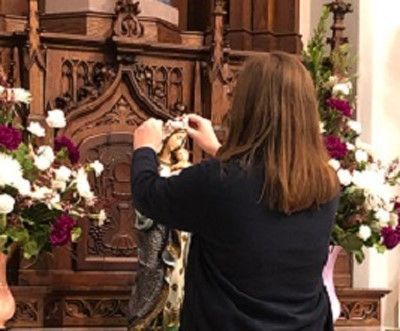 Our Lady of the Sacred Heart High School (OLSH) in Coraopolis, PA, held a school-wide Mass to celebrate Ascension Thursday on May 13. Seniors socially distanced in the school's chapel, while the rest of the school participated in Mass virtually from their classrooms.
While celebrating Christ's victory over death and his ascension into heaven, OLSH also celebrated our Blessed Mother with the May Crowning. As the first and most perfect disciple, she is devoted to accompanying him by interceding for us so that we may receive the gifts of eternal salvation.
Senior Autumn Wheeler honored Mary by crowning her with flowers. OLSH Chaplain Father Bill Dorner blessed the statue of Mary, as well as the congregation and students who watched the ceremony virtually.
Mary is always at work for our well-being. Whatever we need, wherever we need it, Mary is there to help us. It is only fitting that Our Lady of the Sacred Heart High School not only honors Mary in the month of May but all year long.