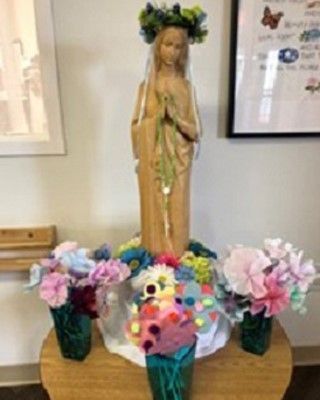 May is traditionally the month we set time aside honor our heavenly mother, Blessed Mary. St. Mary Child Care Center and the Montessori Center of Our Lady, both in Livonia, MI, celebrated this special event by crowning the Blessed Mother statue with a wreath and presenting her with beautifully handcrafted flowers.
Each student made a paper flower either from construction paper or a coffee filter. Business and Mission Director Gail C. Jones said, "Every flower was unique. It was really special to see the individual personality of each child shine through their artwork." After the crowning, one by one, each child reverently approached the Blessed Mother and carefully placed their flower before her.
The ceremony concluded with each child receiving a card with the following prayer:
Holy Mary, Mother of Jesus,
Heavenly Mother to me and you.
Thank you for the love you share.
Keep us always in your sweet care.
Thank you for the gift of your Son.
Please pray today for everyone.
Amen.