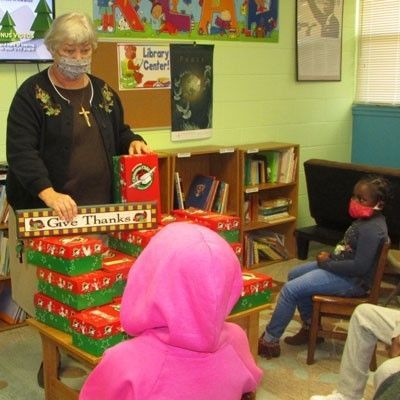 Thanks to a grant from Felician Services Inc., the Felician Center in Kingstree, SC, has established monthly "Beyond the Classroom" activities and events for the children in the learning center program. These day-long events offer children opportunities to learn something new, be creative, reflect the mission, and go home with some tangible takeaways.
In the Franciscan tradition, it has become customary that November at the Felician Center is a time for the children to give rather than receive, so the event this month was focused on acts of kindness for others.
The day started with picking pecans from the Felician Center tree to send to Sisters, family, and friends. After the mandatory temperature check, the children came inside for a "pep talk" from Sr. Susanne Dziedzic, Director of the Felician Center, and watched a short video about Operation Christmas Child, a nonprofit that collects shoeboxes filled with toys, school supplies, and hygiene items for children around the world. Sr. Mary Carol Piskor, Outreach Program Health Coordinator, and Emma Miller, volunteer, guided the children as they filled up shoeboxes with rubber sandals, soap, tissues, stuffed toys, hair accessories, small cars, and crayons.
The children then proceeded to another station where Kat Tisdale, Learning Center Director, and volunteers Gladys Laurie and Marian Fulton led the children in creating posters illustrating all of the things in their lives for which they are thankful. Sr. Susanne said, "It warmed our hearts when they mentioned 'the Center.'"
Upon departing, each child received a bag of fruit to share with their family.
Reflecting on the event, Sr. Susanne remarked, "There were many lessons, especially of compassion, taught and learned, in this unique Thanksgiving event."
The Felician Center is a ministry of the Felician Sisters of North America serving the community of Kingstree, SC. To learn more, please visit their website at www.feliciancentersc.org.