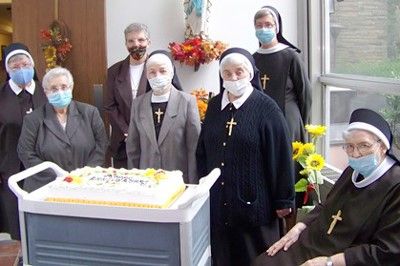 On Saturday, Sept. 26, the Felician Sisters in Lodi, New Jersey, celebrated the anniversaries of their Sisters who entered the Congregation in 1945, 1950, 1960, 1970 and 1995.
Plans began for celebrations in April to praise God for their many years of religious commitment, but God smiled at these plans and determined an alternate way of thanking these Sisters for their years of commitment. By the time the new date was determined, dear Sr. Mary Ramona Borkowski had already joined the choirs of angels for an even better celebration for her diamond jubilee of 75 years.    
Father John O'Neill, a professor at Felician University, was the presider and homilist for this jubilee Mass. In his homily, Father thanked the sisters for being a model of fidelity in a world of broken promises. He explained that in addition to the mission of the Congregation, each sister lives a personal mission designed by God. In this mission, she shares her gifts in ministry and with her community members.
The words of local minister Sr. Elizabeth Marie Morley perhaps best sum up the event:
"Despite the problems of the world, especially the scourge of the pandemic, God has given us a joyful reason to gather for a celebration. Today we honor eight sisters who have collectively given 500 years to the Church, our Congregation and the world.  If we include our celebrant in heaven, our dear Sister Ramona, and our celebrant in Enfield, Sister Maryann Agnes, that brings us to a total of 600 years. 
"Although their jubilee theme is May our prayers rise like incense before you, O Lord, in reality, the lives of the jubilarians have been dedicated not only to prayer, but also to community life and ministry. We thank God for the gift of their lives. They have certainly embodied the Felician charism of compassionate service, total availability and concern for the salvation of all people.
"Today we celebrate the commitment of Sister Mary Ramona Borkowski of loving memory (75 years); Sister Mary Victoria Olender, Sister Rose Mary Sauchelli, Sister Mary David Malczynski, and Sister Antonia Marie Groszkowski (70 years); Sister Mary Felicia Brodowski and Sister Mary Annelle Velivis (60 years); Sister Martine Marie Pijanowski and Sister Renee Marie Zinciuk (50 years) and Sister Maryann Agnes Mueller (25 years). We certainly praise God for giving us these special sisters and for this opportunity for a day of celebration. Deo Gratias. Thanks be to God."