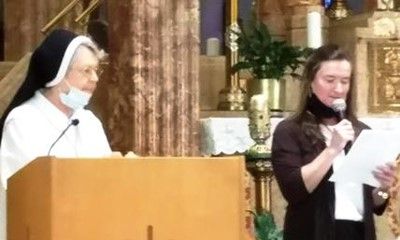 On Tuesday, Sept. 8, 2020, at the Our Lady of the Angels Convent in Enfield, Connecticut, Patricia made her commitment to the Felician Sisters candidacy program.
The acceptance ceremony took place during a very special evening prayer, the first time in four months that the sisters and friars were able to pray together. Following the Magnificat, Patricia joined local minister Sr. Mary Bernardine Mucha in the sanctuary where she stated her desire to become a candidate and was accepted in the name of provincial minister Sr. Mary Christopher Moore. Patricia was then presented with a Franciscan Tau cross.
Afterward, Sr. Nancy Marie Piecewicz played a video message from Sr. Christopher and Sr. Suzanne Marie Kush, director of formation, welcoming Patricia and assuring her of their prayers.
Patricia was inspired to seek union with Christ when she received the sacrament of Confirmation in 2007. When the priest asked her, "What do you ask of Christ?" she immediately responded, "To become one with Christ." She said she knew the Holy Spirit had brought the revelation, but she was not sure at the time exactly what it meant.
As more light was shed on that call, Patricia's desire to be consecrated to Christ grew stronger and permeated her heart. She understood this as a call to religious life and contacted vocation outreach minister Sr. Desiré Anne-Marie Findlay. She then spent the three weeks with the sisters at the house of discernment in Mooncrest, Pennsylvania, and served at the Mooncrest Neighborhood Programs.
Patricia holds a B.A. in economics, an M.S. in Special Education and an M.B.A. Her work experience includes teaching life skills to severely disabled children at an elementary school. She also served in the U.S. Air Force.
Patricia will live at Mother Angela Residence in Enfield while living in community and volunteering at the Enfield Montessori School.
Candidacy is the second step in the formation process, which follows a period of inquiry. Candidacy signals that a woman is looking to begin the journey toward life as a Felician Sister. Her acceptance as a candidate is an invitation to join us in prayer, ministry and conversation. A candidate typically continues to live in her own home, continuing to participate in her chosen profession or job, volunteer service and Catholic faith.