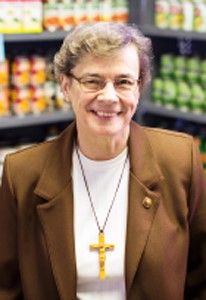 The 2020 recipient of the Villa Maria College Blessed Angela Award is Sr. Mary Michaelanne Galas, who has spent the last seven years as director of the Sister Mary Josette Food Pantry. This award is presented annually to an employee who embodies the mission and spirit of Villa Maria College.
The Sister Mary Josette Food Pantry is located on the campus of Villa Maria College in Buffalo, New York, and provides thousands of meals to students, staff and community members each year. Through her expert management of this ministry, Sr. Michaelanne embodies the Felician core values for ministry.
A recent volunteer at the pantry noted, "I had the opportunity to help in the pantry and to witness Sr. Michaelanne's interaction with her clients. The core values of compassion and solidarity with the poor were evident as I heard her listen to the stories and problems of her clients."
In addition, members of the selection committee noted, "She treats all food pantry clients with respect and dignity; she gets to know them and their situations, which she uses to help them better. She represents our core values in how she treats everyone she meets – client, faculty, staff, volunteers. We believe it is appropriate to honor her for living out the core values."
The college community thanks Sr. Michaelanne for all her hard work and congratulates her on this fitting recognition. She will receive a framed certificate to commemorate this honor.
Villa Maria College, a ministry of the Felician Sisters of North America, is a private, co-educational, Catholic college providing students with the premier student-centered experience in Western New York. Students learn and grow with a culturally diverse population that lives its ideals of truth, charity, and unity. With a variety of academic programs, their real strength lies in their studio-based education, a 8:1 student to faculty ratio and educators who bring their real world experience into the classroom. Their faculty consists of working artists, animators, musicians, writers and designers who all place a heavy emphasis on teaching students how to use their talents in real world experiences. Click here to learn more.