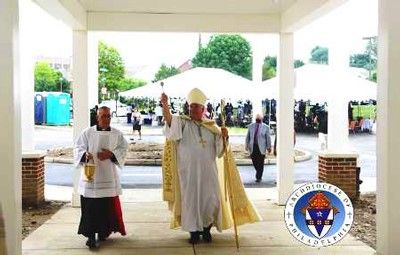 On Aug. 13, 2020, the St. Ignatius Nursing & Rehab Center administrative team hosted the blessing and dedication of Francis House in West Philadelphia, Pennsylvania, the third Low Income Tax Credit Project developed by STINRC.
St. Ignatius president and CEO Susan McCrary said that Francis House was a dream in the making for more than five years for former administrator John Meacham, who had, in her words, "a vision of an urban campus that could provide three levels of care to the low-income elderly in West Philadelphia: skilled rehab and long-term care, independent living and personal care and assisted living." Francis House will round out those services with its 60 units intended to accommodate frail elderly individuals who need personal care services or assisted living, a service that is critically lacking for low-income individuals.
According to Kelvin Jeremiah, executive director of the Philadelphia Housing Authority, there is a shortage of resources to "allow our seniors to age in a place with the support system that they need." In response, the PHA is committing more than $8 million to address the affordable housing crisis for the growing elderly population in the West Philadelphia area. They are eager to support projects like Francis House, where the staff "care not only about where people live, but how they live."
Senator Vincent Hughes, who helped St. Ignatius obtain the tax credits necessary to develop Francis House, was also in attendance. He called on the community members to celebrate the moment but not rest on their laurels, asking them to be "committed advocates" for these kinds of projects, which are so desperately needed across the nation.
Lorna Horsey, chairperson of the Francis House Committee Angela Court Housing Services Board, said that there is already a waiting list of people eager to become residents of Francis House.
The Most Reverend Nelson J. Pérez, DD, fourteenth Archbishop of Philadelphia, blessed the Francis House facility, saying, "This is what happens when someone has a dream, when people are committed to a dream, when people work together to make that dream happen." He said the mark of success for this project will be "when the first resident lays his head on his pillow and says, 'It is good to be here.'"
Sr. Veronica Marie Lucero, mission integration leader at St. Ignatius, said, "August 13 was a grand celebration of Christian vocation and public servant leadership from both religious and secular circles that came together for the common good."