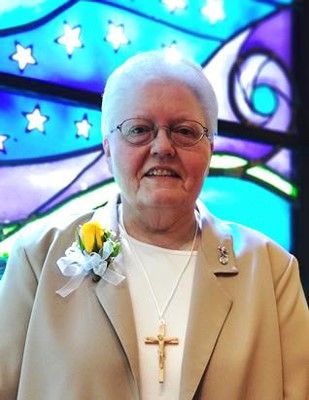 When Sr. Mary Christopher Moore, provincial minister, began her prayer before a dinner celebrating the Golden Jubilee of provincial councilor Sr. Mary Geralyn Mroczkowski, she opened with "On this golden day of jubilee." Sunday, June 21 truly was a "golden" day, as the sun shone on the celebration of Sr. Geralyn's 50 years of religious life at the Our Lady of Hope Convent in Beaver Falls, Pennsylvania.
Very Rev. Howard W. Campbell, vicar for clergy personnel in the Diocese of Pittsburgh, was the celebrant and homilist for the Eucharistic celebration that followed morning prayer.
In his homily, Father Howard acknowledged that "50 years is a decent amount of time." He said he sees Sr. Geralyn as a "warrior," as someone with courage, and encouraged her to continue to be strong and "be not afraid." He reminded her that throughout the past 50 years, she has received many blessings and at the same time, has been a blessing for many others, especially through her ministry.
After Sister Geralyn renewed her vows, the community blessed her using the words of Felician foundress Blessed Mary Angela Truszkowska.
As the sisters gathered around the dinner table, Sister Christopher prayed, "May you who know the number of every hair on her head, and you who count the sparrows, be her protector and shield that she may enter the next phase of her life without fear, confident in the providential love of the Father."
Reflecting on the day, Sister Geralyn said, "The beautiful Eucharistic celebration and the prayerful support of my sisters and Father Howard made the day one to remember. I thank God for the gift of my vocation and for 50 years as a Felician Sister."