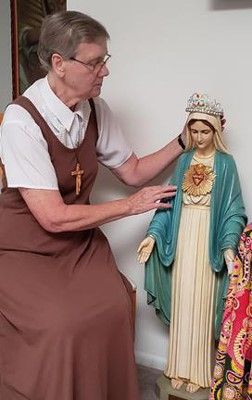 Golden jubilarian Sr. Mary Therese Ann Parobek crowned the statue of Mary during evening prayer on Wednesday, May 13, at St. Joseph the Worker Convent in Pomona, California.
Mary has always held a central place in the Felician Congregation that was founded on the feast of the Presentation of the Mother of God, November 21. The Blessed Virgin Mary was elected as the Superior General of the Congregation on the Feast of Our Lady of the Angels, August 2, 1864.
Our Sisters in California operate the Angela Spirituality Center, a ministry of presence to the homeless and those living in poverty. We also have Sisters in ministry at Pomona Catholic School, which was originally staffed almost entirely by Felician Sisters, and Pomona Valley Hospital. A chapter of the Felician Associates, lay men and women who are dedicated to the Felician charism, also operates out of Pomona.