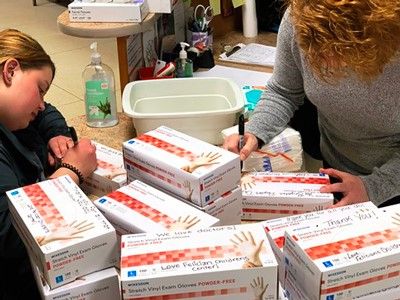 The Felician Children's Center in Jackson, Michigan, is closed due to COVID-19, but the staff has found a way to continue to help. Tracy Smith Jackson, CEO, said the staff has collected all of the personal protective equipment (PPE) left at the center and donated them to Henry Ford Allegiance Hospital in Jackson. "It is a small amount," Jackson said, "but hopefully it can help in some way."   
In addition, Sr. Mary Victoria Richardson, who ministers at the Felician Children's Center, said, "FCC continues to reach out to families, using online meetings to help the children and their families."
The Felician Children's Center is a ministry of the Felician Sisters of North America in Jackson, Michigan, that is dedicated to providing children with a healthy, happy and engaging educational experience rooted in Catholic values. To learn more, please visit their website at www.felicianchildrenscenter.org.