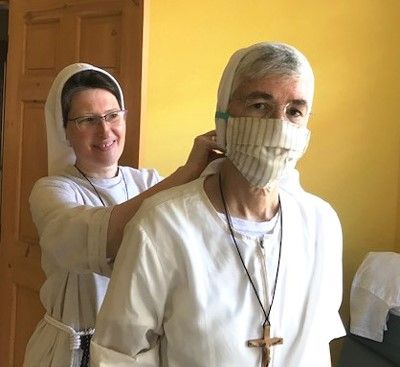 Haiti confirmed its first two cases of COVID19 on Friday, March 20. That same day President Moise announced the closing of schools, businesses and churches until further notice. There are to be no gatherings over ten people, and a curfew will be in effect after 8 p.m.              
S Marilyn Marie Minter wrote:
"In our mission, we are following the restrictions that the country has placed upon all. The Mother Angela Mobil Clinic is still working.
"Every day, the clinic is educating the people on how to protect themselves from the virus in the midst of unsanitary conditions. We have provided a bucket with water and Clorox to have patients wash their hands before seeing the doctors. One priest has asked that we not come to his parish chapel for now.
"We are in the process of preparing face masks for our clinic workers and personnel and hope to have more for others who ask for them. It is impossible to purchase them here in Jacmel. We also ordered more buckets with filters for clean water and buckets with valves. We will be buying Clorox and soap for our people.
"Every day, our children come to eat. We wash their hands, measure their temperatures, and only accept small groups at a time. We are following the restrictions of ten people at a time in the mission.
"We are blest to still have Mass celebrated in our convent chapel and to receive Eucharist daily. We are praying for you and for the healing of the world many times during the day. Please keep us in your prayers too. We hear news every day that the virus is spreading very quickly in the Dominican Republic which is to the east on the island we share. In Haiti, there is no medical help as in other countries.
"The people are in fear and we feel we are here first to bring them hope and proclaim Jesus Christ and His Good News and believe that God will make all things new in a different way than we imagine."
To learn more about Felician Mission Haiti, follow their blog at feliciansistershaiti.com.